Travel Requirements
Current Passport: valid for at least one year and two extra passports size photos.
Nepalese Visa: May be obtained from the Royal Nepalese Embassy in New York. You may obtain a visa at the international airport in Kathmandu. You must present passport photos and exact change for the visa. Visa costs are subject to change.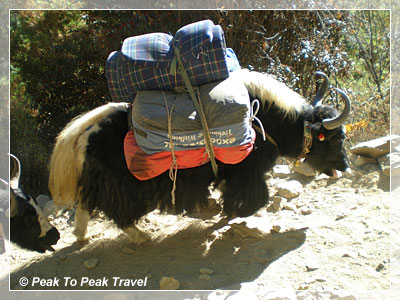 Travel insurance: Personal travel insurance is highly recommended and should be obtained before departure. Insurance must include evacuation coverage in case of emergency.
Vaccination: Please contact your health care provider at least one month before your departure to evaluate your need for vaccines and boosters.
Baggage: International baggage allowance of two 50 lb. pieces and one carry-on for flights between the USA and Nepal.
Currency: A money belt is highly recommended. Currency should be taken to Nepal in the form of cash or traveler's checks. Currency is easily changed as needed in Kathmandu. It is necessary to pay for most items with rupees, however some hotel and restaurant bill are payable with credit cards. ATM's are not readily available. American Express is available for wire transfers.
Telephone: lnternational calls may be made from hotel lobbies, Internet cafes and even from a few villages along the trekking trail. Rates are variable. E-mail is cost efficient and accessible throughout Kathmandu at lnternet cafes.
Equipment
Peak to Peak Travel, Trekking and Mountaineering Service provides high quality tents (NORTH FACE, MOUNTAIN HARDWARE), kitchen equipment and dining tents.
The following is a guide to personal equipment you will need or that will make your trip more comfortable.
Sleeping bag: Down bag rated to -20 degrees
Sleeping pad if you have a preference
Light day pack
Comfortable shoes for traveling and walking around Kathmandu
Trekking boots - broken in
Rain gear - coat, umbrella, pack cover
Warm and waterproof jacket, hat and gloves
Warm woolen socks
Head light or flash light
Water bottles
Sun glasses and sun screen
Ski poles
Camera and film
Extra batteries and film are available in Kathmandu
Personal toiletries and medicine