Tibet Adventure
Lhasa Adventure & Mt. Kailash Pilgrimage Trek
Duration: 28 Days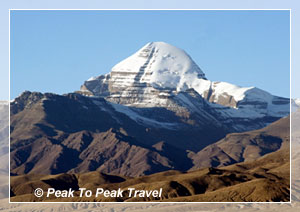 Mt. Kailash, Tibet
Mount Kailash is a peak in the Gangdise Mountains which is part of the Himalayas in Tibet, the source of some of the longest rivers in Asia: the Indus River, the Sutlej River (a major tributary of the Indus River), the Brahmaputra River, and the Karnali River (a tributary of the Ganges River) and is considered a sacred place in four religions: Hinduism, Buddhism, Jainism and the Bon faith. In the Hindu religion it is considered to be the abode of Lord Shiva. The mountain lies near Lake Manasarowar and Lake Rakshastal in Tibet.
Mt. Kailas is an illustration of the Hindu significance depicting the holy family of Shiva, consisting of Shiva, Parvati, Ganesha and Muruga (Kartikeya). According to Hinduism, Shiva, the destroyer of evil and sorrow, resides at the summit of a legendary mountain named Kailasa, where he sits in a state of perpetual meditation along with his wife Parvati, the daughter of Himalaya. Kubera, the God of wealth was also said to have his abode on or near the mountain. Every year, thousands make a pilgrimage to Kailash, following a tradition going back thousands of years. Pilgrims of several religions believe that circumambulating Mount Kailash on foot is a holy ritual that will bring good fortune. Hindus and Buddhists make the peregrination in a clockwise direction. Followers of the Jain and Bonpo religions circumambulate the mountain in a counterclockwise direction. The path around Mount Kailash is 33 miles long.
Some pilgrims believe that the entire walk around Kailash should be made in a single day. This is not easy. A person in good shape walking fast would take perhaps 15 hours to complete the 33 miles trek. Some of the devout do accomplish this feat, little daunted by the uneven terrain, altitude sickness and harsh conditions faced in the process. Indeed, other pilgrims venture a much more demanding regimen, performing body-length prostrations over the entire length of the circumambulation: The pilgrim bends down, kneels, prostrates full-length, makes a mark with his fingers, rises to his knees, prays, and then crawls forward on hands and knees to the mark made by his/her fingers before repeating the process. It requires at least four days of physical endurance to perform the circumambulation while following this regimen. The mountain is located in a particularly remote and inhospitable area of the Tibetan Himalayas. A few modern amenities, such as benches, resting places and refreshment kiosks, exist to aid the pilgrims in their devotions. According to all religions that revere the mountain, setting foot on its slopes is a dire sin.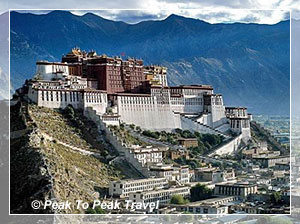 Potala Palace, Tibet/China
Peak to Peak Travel organizes tours and treks specializing in Nepal and Tibet. Our guides have over 25 years of experience in Lhasa tour and Mt. Kailsh adventure trek. Peak to Peak Travel is committed to providing comfort, safety, security, and enjoyment on your adventures journey in the Himalaya. Flights from Kathmandu are available to Lhasa, Tibet three days a week. Travel over the great Tibetan plateau (ranging 10,000 to 16,000 ft.) is done by four wheel Land Cruisers. Our Mt. Kailash trek itinerary follows the pilgrim's ancient footsteps around the mountain, where a three-day "Kora"( circumambulation) trek is reputed to forgive a lifetime of sin. These three days, Kora starts from an altitude of 15,000 ft. and a maximum altitude at the Dolma pass (19,000 ft.). We organize the camping en route. During this three day "Kora", we trek clockwise around Mt. Kailash. On the first night we camp at Dira Puk by the meadow of Dira Puk Gompa about 2 miles from the pass and on the next day we will go over the pass and camp at Zutul Puk 15712 ft. We will descend as far as possible to avoid the high altitude.

Adventure Highlights: Visit the great Palaces, Monasteries, and Temples of forbidden Tibet. Meet the Tibetan people. Mystical overland Journey in 4-WD Land cruisers from Lhasa to Mount Kailash in Western Tibet. Once in a lifetime Pilgrimage trek around the Holy Mount Kailash. Exotic cultural tours in Tibet and Kathmandu, Nepal.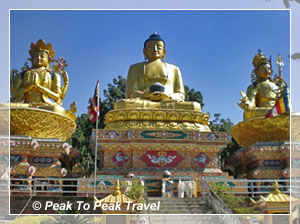 Swayambunath Kathmandu, Nepal

Lhasa Adventure and Mount Kailash Pilgrimage Trek: Cost is $6995, single supplement is $650. The trip cost includes Tibet entry permit, round trip air fare from Los Angeles to Kathmandu, Nepal, or (Los Angeles-Hongkong-Chendu-Lhasa and Kathmandu to Los Angeles air fare). Trekking permits for Mt. Kailash, Hotel costs (four nights) in Kathmandu and three nights in Lhasa, one day of sightseeing in Kathmandu, three days of sightseeing in Lhasa, round trip airfare from Kathmandu to Lhasa, the sightseeing entry fees in Lhasa, all meals: breakfast, lunch, and three course dinner prepared by our cooks using local organic produce while on the trek to Mt. Kailash, hotel and lodge on the way to Mt. Kailash where camping is not permitted, salary for Tibetan and Nepali staff, airport transportation and tax in Lhasa, 4-WD Land cruisers from Lhasa to Mount Kailash and back to Zhangmu, Tibet and transportation from Zhangmu to Kathmandu, Nepal.

Travelers are responsible for mandatory evacuation and travel insurance, as well as entry fees for Tibet, China, and Nepal. Bottled drinks and alcoholic beverages, meals and transportation on free days in Kathmandu, airport transit hotels, personal shopping, tips for staff, and Kathmandu, Nepal airport exit fee.
Sample Itinerary
Day 1: Depart US for Kathmandu, Nepal. Group will meet in Los Angeles (LAX)
Day 2: En Route to Nepal (Transit in Singapore)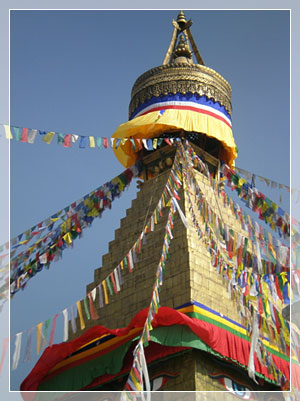 Bodhnath Kathmandu, Nepal
Day 3: Arrive in Kathmandu: Peak to Peak Travel's Kathmandu team will meet us at the airport and help us to transport to the hotel. A much needed rest is taken in the afternoon. Dinner will be arranged in Thamel. We will briefly discuss the sightseeing tour after dinner.
Day 4: Sightseeing tour in Kathmandu: We will visit the swayambunath, Bodhnath and Pashupatinath.
Day 5: Kathmandu to Lhasa (12,004 ft.): Our trip is designed to go through Kathmandu, Nepal to Lhasa, in case of changes on the travel itinerary, we also connect our trip via Hongkong Chengdu to Lhasa, Gonggar Airport. Our Tibetan guide will meet us at Gonggar Airport in Lhasa. After immigration formalities, we will be driven to Lhasa (11,975 ft). It takes about 45 minutes to reach the exotic city of Lhasa. After checking in at our hotel, we will rest and take it easy. We have to drink plenty of fluids and let our bodies get used to Lhasa's high altitude.
Day 6: Sightseeing in Lhasa: After an early morning breakfast at your hotel, the tour guide will take us on a tour to Sera Monastery, Norbulingka and the Barkhor Square. At the famous Sera Monastery, you will get an insight into the important aspects of Tibetan Buddhism. We will visit Norbulingka, the summer retreat of the Dalai Lama, which was completed in1956. Norbulingka is ornately decorated with Tibetan carvings and paintings. Jokhang temple provides yet another glimpse of the rich Tibetan cultural and heritage. We will also get the chance to take a tour around the busy Barkhor Square, the heart of Lhasa. After the tours, we will be escorted back to our hotel.
Day 7: Sightseeing in Lhasa: After a morning breakfast at the hotel you will be escorted by your guide to the Potala Palace. The imposing structure of the palace dominates the landscape of Lhasa. As you are guided through the ancient chambers of the palace, you get to see Tibetan art at its best. The Potala Palace has a vast array of intricate Tibetan murals and beautiful statues. You will also get to view the tombs of the eight Dalai Lamas. Later in the day you will visit the beautifully landscaped Drepung Monastery where you can observe nuns and monks chanting and performing religious discourses. After the day's tour is over, you are escorted back to your hotel for a well-earned rest. Note: Since only a limited number of visitors are allowed to visit the Potala Palace every day, the order of sightseeing places will be decided upon by your guide.
Day 8: Drive from Lhasa to Gyantse (12,956 ft.): Following the Friendship Highway, we drive past Khamba La at 15725 ft. with a brief halt to savor the majestic views of Yamdok-Tso (Yamdok Lake) and Nazin Kang Sa rising to an elevation of 23,788 ft. On turning westwards, you come across Karo La pass at 16,550 ft. You can see huge glaciers tumbling down into the road. After driving about 163 miles, magnificently landscaped Tibetan villages become visible as you enter the town of Gyantse. We will use the local hotels/lodges in Gyantse.
Day 9: Drive from Gyantse to Shigatse (12795 ft.): Gyantse's pride is the Gyantse Dzong and Kumbum. Gyantse Dzong is a historical fort built in the 14th century and overlooks a mesmerizing view of Gyantse and surrounding Nyang Chu Valley. Kumbum has a large gold-domed stupa, houses, several chapels and Tibetan Buddhist murals. After you enjoy exploring Gyantse, you will take a 56 mile drive to Shigatse. Having driven to an altitude of 12,795 ft., you find yourself at Shigatse, the second largest city in Tibet. Tashilhunpo Monastery, being one of the largest functioning monasteries in Tibet is a major attraction of Shigatse. We will stay one night in a hotel.
Day 10: Drive from Shigatse to Lhatse (13,285 ft.): Today we continue along the Friendship Highway to Lhaste. A 98 mile drive finally concludes at the small town of Lhaste. Good restaurants, well-resourced shops and guest houses are available in Lhatse. This place may arouse a special interest in archeologists. You can spot many ruined dzongs and a small Changmoche Monastery at the west end of the town. We will meet your Sherpa cooking and camping team from Nepal here.
Day 11: Drive to Sasang (14,596 ft.): Beautiful and a scenic drive through grassy riverside takes us to our campsite at Sasang. We will camp here for over night.
Day 12: Drive from Sasang to Tsochen: Heading away from Sasang, we drive for 220 miles towards Tsochen. The trail continues along a grass-strewn riverside. Hugging onto the fascinating environment amidst amazing natural vistas, we make our way to a suitable campsite where we will spend the night.
Day 13: Drive from Tsochen to Gertse: The trail undulates past thick verdant hills. As the drive progresses a little further, amazing views of towering snow-capped peaks zoom into vision. Further ahead, a wide plain sprawls over. Thereon, we continue driving for another 52 miles. Eventually, the trail ends after reaching Gertse. Camping in Gertse gives you the opportunity to bask in the splendor of surrounding beauty and Gertse's cultural richness.
Day 14: Drive from Gertse to Gakyi: As we continue driving towards Gakyi away from Gertse, the trail wedges its way over a pass. Overlooking a scenically mesmerizing sight, the trail cuts through a wide valley en route to Gakyi. We will spend the night at a fascinating campsite in Gakyi.
Day 15: Drive from Gakyi to Shiquanhe: A 70 mile scenic drive from Gakyi to Shiquanhe follows the trail running along the Indus River. As Shiquanhe comes into sight, you will witness some positive influences of modernization. Houses seen in the town are of modern contemporary styles. After indulging in some interesting sightseeing, we will settle at the campsite for the night.
Day 16: Drive from Shiquanhe to Tsada: Leaving Shiquanhe, you continue driving parallel to the Indus River. A few kilometers down the road, a small pristine hamlet springs into picture. The trail further crisscrosses a succession of passes and finally to Tsada, the Guge Kingdom. On finding a perfect site, we set up our camp for the night.
Day 17: An Excursion day in Guge Kingdom (14,200 ft.): Your guide takes you on an exciting excursion around the Guge Kingdom. This tenth century kingdom oozes ancient history of Tibet. With the passage of centuries, Guge Kingdom had to bear several ruins which as evidence lie atop a hill near a river encompassing an area of 111,802 square miles. Numerous monasteries, houses, cave dwellings and stupas are nestled on the hill and its neighboring areas. When it comes to Tibetan murals, sculptures and stone inscriptions, Guge Kingdom undeniably comes to mind. White Palace, Red Palace, Yamantaka Chapel, Tara Chapel and Mandala Chapel are the major attractions of Guge Kingdom which are historically linked with Buddha, Shakyamuni, Songtsen Gampo, kings and ministers. On this exquisite excursion, you will not only relive ancient Tibetan history but you will be immersed in Tibetan culture as well.
Day 18: Drive from Zada to Tarpoche (15,600 ft.): From Zada we drive towards Darchen following a dirt road. On our 174 mile scenic drive we will cross a prayer flag studded tall pole which indicates a beginning of a 33 mile circumambulation around Mount Kailash. Darchen is regarded as the pilgrims' gateway to the Mt. Kailash tour. Shortly after arriving in Darchen, we can visit the Darchen monastery, a small shabby monastery lying just below its village, after crossing the Darchen River on a wooden bridge. There is a Tibetan Medical School on the west side. We can trek for an hour to get on top of a ridge situated on the north end of the Darchen village to have a clear and enchanting view of Mount Kailash. If we look back to the south we can catch a glimpse of the breathtaking Manasarovar Lake and Rakshas Tal (Lhanag-tso). Further on, if you trek to the north of the ridge for another 2 hours, you will see Gyangdrak Monastery, the largest of the Kailash monasteries, which has Mt Kailash's four Buddha footprints or shabje. Whereas, on the west of the ridge we will approach Selung Monastery after a 1½ hour trek and a trail from this monastery continues westward down into Lha Chu valley, close to the Chuku Monastery. We will camp at a suitable site in Darchen.
Day 19: Acclimatization day at Tarboche (15,600 ft.)
Day 20: Mt. Kailash Parikrama Trek, Tarboche to Dira Puk: We will trek for around 6 hours from Darchen to Dira Puk Monastery. Further ahead, verdant meadows and picturesque streams lie en route to Lha Chu Valley. The trail overlooks a turquoise river cascading over a narrow canyon with high steep cliffs. En route, the north face of Kailash can be seen. The trail will approach a 13th century monastery of Dira-Puk. Visiting this monastery can be very insightful. Eventually, we will conclude the trek of the day by camping at Dira-Puk after a very memorable Mount Kailash trek.
Day 21: Kailash ParikramaTrek, Dira Puk to Zutul Puk (15712 ft.): Lha Chu Valley blurs as you turn towards Drolma Chu Valley. We will strenuously ascend to Drolma La [18,466ft]. But soon after sighting breathtaking view of Thukpe Dzingbu Lake, known as the Lake of Compassion, at the summit, we will realize that this tough and challenging ascent has indeed been very worthwhile and fruitful. Several prayer flags can be seen at the summit. Further on as we continue our trek the trail descends to the flat fields of Zutul-Puk which houses a monastery and several fascinating caves. The caves at this locale are most popular for meditation; Milarepa's cave being one of them with Milarepa's footprints and elbow prints are believed to be imprinted all over this cave of Mani stones. Camping at Zutul-Puk for the night can be quite exciting and adventurous.
Day 22: Kailash Parikrama Trek, Zutul Puk to Darchen (14,956 ft.) and then drive to Lake Manasarovar: We continue our trek from Zutul-Puk following the trail through Bharkha plain leading to Darchen, crossing several streams along the picturesque gorge. An enchanting view of Mount Kailash accompanies us through this Mount Kailash trek. Finally, on finding the former campsite in Darchen, we will conclude the trip for the day. A 22 mile drive from Darchen takes us to sacred Lake Manasarovar. As we near this breathtaking lake, the historic Chiu Monastery becomes visible on the North West shore of the lake. From this vantage point, we can even catch a glimpse the majestic Mount Kailash. This journey stimulates us spiritually; ritual bathing in Manasarovar lake is believed to give salvation cleansing our past sins. Mere sight of Mount Kailash is enough to heighten our adventure spirit for Mount Kailash Parikrama Trek. Rakshas Tal lies connected to Lake Manasarovar by a small channel. Savoring the panoramic view of Mount Kailash and spiritual experience, we will camp near Manasarovar Lake under a star-lit open sky.
Day 23: Drive form Manasarovar to Paryang (15,580 ft.): Driving 168 miles away from Lake Manasarovar, we will cross Mayum-la and several rivers and head towards Paryang, and camp at Paryang.
Day 24: Drive From Paryang to Saga (15,412 ft.): We will continue our drive for another 159 miles to Saga up to an elevation of 15,088 ft. On the way we will encounter the small town of Zhongba. We will cross the Yarlung Tsangpo [Brahmaputra River] on a ferry. Thereafter, we drive along a 68 mile route opening into wide flat plains. The trail further advances towards huge turquoise lakes, the Peiku-Tso with the spectacular view of Mt. Shishapangma as the backdrop.
Day 25: Drive From Saga to Zhangmu (7545 ft.): We will drive towards the Nepal Tibet border, after driving 112 miles, along the Friendship Highway, the trail winds through a high pass, the Lalung La (17056 ft.). We will be driving at a very high altitude, and our journey through this Himalayan high altitude road is breathtaking with alpine meadows, picturesque hamlets, and an abundance of wildflowers. En route we will see several Nepalese and Indian pilgrims. As we drive through a mossy gorge of waterfalls and cascades, we finally enter Nyalam at 12,300 ft. and then, heading away from Nyalam, we will drive for one hour to the lush and verdant vegetation of Zhangmu at 7545 ft.
Day 26: Drive from Zhangmu to Kathmandu (4592 ft.): Driving for a few kilometers away from Zhangmu, we will follow the Friendship Bridge along the Bhote Koshi River to Immigration Control in Kodari where we will say goodbye to our Tibetan guide and handle re-entry formalities to return to Kathmandu. From here the drive is about 5 hours (77 miles). Our month long adventure finally ends when we arrive in Kathmandu.
Day 27: Free day in Kathmandu, Nepal
Day 28: Departure from Kathmandu: Morning breakfast at hotel, at 10:30 a.m. transport to airport.
Important Information for Travelers

Itinerary Changes: Participants should keep in mind that this is an adventure trip that takes you into one of the most remote corners of the Tibetan Plateau, where many unforeseen events may contribute to the need for a change in the itinerary. Depending on the prevailing situation, the itinerary can be modified to some extent after consulting with your guide. However, the date of tour completion should always coincide with the original itinerary. Please be sure and bring your patience and try to keep an open, relaxed, positive and friendly attitude as traveling in this part of the world may be very different than what you are used to, but things always seem to fall into place at the last moment. The Chinese authorities with whom we work reserve the right to change the itineraries.

Flights to Lhasa, Tibet: Air China operates flights between Kathmandu and Lhasa (Tuesday, Thursday & Saturday). This flight offers spectacular views of Mt. Everest, Makalu and many other Himalayan giants. We will organize your pick up once you reach Lhasa and drive you to your hotel.

Visa & Entry Procedure: For Tibet, we organize a group visa, and in order to obtain said visa, we will need a copy of your passport at least 30 days prior to the commencement of your trip. Tourism regulations in Tibet are subject to change without prior notice. As per current regulations the Chinese Embassy in Kathmandu issues visas on Monday, Wednesday and Friday (9am - 11am). Therefore, we will need your original passport one day before the visa processing day.

Mandatory Evacuation and Travel Insurance: Before joining the Lhasa Adventure & Mt. Kailash Pilgrimage Trek, we strongly recommend you to have Mandatory Evacuation and Travel Insurance which should cover cancellation, trip delay, lost/stolen items, medical expenses and emergency evacuation etc.

Health: Please consult with your physician two months prior to your trip. Vaccination requirements for traveling to Asia change frequently. The main health consideration in high altitude is acute mountain sickness (AMS). You may experience some mild symptoms initially, such as headache, lethargy, nausea and difficulty sleeping, but these should lessen within a few days. For your safety, Peak to Peak Travel also provides a portable oxygen and high altitude chamber known as a 'Gamow Bag'. Please consult with your physician about the high altitude medications. The itinerary on this trip has acclimatization days in Lhasa at an altitude of 12,000 ft. to ensure that you are thoroughly acclimatized before you trek across the high passes. If you have ever suffered from altitude sickness or have a heart or breathing complaint, we highly recommend you consult your doctor about your suitability for traveling to Tibet before booking. We suggest that you bring some pain medication (non-narcotic or otherwise only as prescribed by a doctor) and enough medicine for cold, diarrhea, nausea and fever. Some nasal ointment and throat-moistening pills will greatly be of help for those who are sensitive to chilly or freezing weather conditions.

Rescue and Evacuation: In case of a serious sickness or other emergencies, which we hope will not happen, you will be transferred to the nearest hospital. Since you are entirely liable for all the expenses incurred in evacuation please make sure that it is covered by your insurance before signing for it or be prepared to pay on your own after getting back to Kathmandu.

Group Size: We bring together a small group of people who have similar interests in traveling in Nepal and Tibet. During the trip, one could gain a memorable and insightful travel experience and also get a valuable opportunity to interact with a group of Nepali and Tibetan people on your trek as well as the group from the States. On our fixed scheduled departures, our group comprises of maximum 13 from the States & minimum 2 persons. We will be joining a group of staff from Nepal and a group of drivers and guides from different countries. No minimum and maximum apply for private tours and trek. Independent Travel is not permitted in Tibet, China.

Accommodations: In Lhasa, accommodations will be in 3 to 4 star hotels which are renowned for their hospitality and ethnic Tibetan ambiance. They are conveniently situated in the center of the City of Lhasa, just a few minutes walk to the Jokhang Temple and Barkhor Square. Elsewhere along the route, accommodations will be at the best available hotels. Private rooms can be arranged upon request; a supplement charge will incur in that case. Our guide will book your rooms on arrival to the destination. If rooms are not available at the specified guest house or hotel, they will book a room at another similar category guest house or hotel. We are committed to provide the best accommodations available, but please do keep in mind that we are taking an adventure tour, and sometimes the arrangements may be basic. Traveling in Tibet is a fantastic experience but sometimes we have to put up with a bit of discomfort. To enjoy this trip we need to have an adventurous spirit and the ability to adapt to minor discomforts. Tented camps supported by Nepali Sherpa staffs will be provided during the Mt. Kailash pilgrim trek.

Meals: Your trip cost includes all meals during your hotel stay in Tibet. Your guide will find good restaurants with authentic Tibetan menus. You may enjoy small Tibetan restaurants who serve authentic Tibetan food. Have some Momos or gyantok, and wash it down with a cup of salted Tibetan butter tea. During the trek, your cook will provide nutritious meals daily with a variety of local and Western dishes. To start the day, breakfast consists of a choice of porridge, muesli and cereal followed by omelets, fried or scrambled eggs with chapattis or bread. Lunch is generally a selection of salad, steamed vegetable dishes, pasta and traditional Tibetan breads. After a long day trek, dinner is a hearty 3 course meal, soup, followed by a variety of vegetables, meat, rice and pasta dishes and completed with a simple dessert. Tea, coffee and hot chocolate are also served with all meals. Peak to Peak Travel uses as much fresh and organic produce as possible. Our cook and kitchen staff maintains exceptional standards of cleanliness and food preparation hygiene. Special dietary requirements can always be catered for upon request.

Overland Adventure Travel: Our daily adventure begins after breakfast at about 9 a.m. Our driver will stop along the way for photographs and to investigate places of special interest. Half way to our camp we will stop for lunch at noon. After lunch we continue on our adventure, generally arriving at our destination by 3 or 4 p.m. During the trek, our morning wake-up call is a hot cup of tea brought to your bedside at about 6 a.m. One half-hour later a bucket of warm water is ready for a morning cleanup. A hearty breakfast comes before packing up camp for the daily adventure. Our guide and Sherpa will help pack your belongings. All you need to carry is a small day pack for a water bottle, camera, sun cream, hat, rain jacket and warm jumper. Porters or Yaks will carry everything else for you. On the first day of the Mt. Kailash Trek, you have a gradual ascent from Darchen which could take around 4-6 hrs. depending on your speed. The next day is much steeper and considered to be the most challenging day of the entire trip. The trek includes a steep climb to cross over the Drolma La (18448 ft.) and successive descent, partly along the glacier to reach the Camp which could take around 7 to 10 hours. On the third day from here it is about a 3 hour gradual descent, at the end of the trail we head to meet our driver and they will drive us to another part of the Manasarovar Lake.

Transportation: We use the best available 4WD Land cruisers for the overland drive across the Tibetan highland. These vehicles are extremely sturdy, spacious and reliable and they make the journey as comfortable as possible. There will be a truck carrying luggage and trekking equipment to and from the trail head points and there will be yaks or porters to carry the equipment during the trek. Once again, Please be sure and bring your patience and try to keep an open mind while traveling in this part of the world.

Clothing: During the day a light long sleeve shirt and lightweight pants will be suitable. Warm gloves, hat, sun glasses, good hiking boots and a warm jacket would make your adventure more comfortable. As you are in the Himalayan high altitude, it would be wise to pack a down jacket because the temperature could change very fast in the evening. A mandatory list of equipment will be provided once you book your trip.

Communication: Communication facilities in Tibet have improved over the past few years. The hotels we use in Lhasa have international IDD phone and fax services. Phone calls can also be made from public phone booths in bigger towns. Internet cafes are also available at bigger towns. Check with your guide for the best cyber cafes in each town. Now mobile phones work fine all over Tibet. You can also have a roaming facility added to your mobile phone. If you buy a Chinese SIM card at the border, you can stay in touch with your family and friends most of the time. Please ask us for the latest facilities and schemes on Chinese mobile phones.

Currency: Besides Chinese Yuan, only US dollars can be accepted in Tibet. Shops that accept US dollars are very limited and you might not be able to get a good exchange rate. Credit cards can only be used at some hotels. The Bank of China also accepts credit cards. ATMs are not available. Exchanging your money to Chinese Yuan will be the best option for you, which can be done at the Bank of China in Lhasa or at the Himalayan Bank in Kathmandu, Nepal.

Guide & Trekking Staff: Sightseeing tours in the city of Kathmandu and Lhasa are given by knowledgeable English speaking native tour guides. On your trek, you will be accompanied by Nepalese and Tibetan trekking staff. The aim of the Peak to Peak Travel team is to make the trek as hassle-free and enjoyable as possible. They all speak English, although it may not be perfect, and communication won't be a problem. Under the leadership of the sirdar, the staff consists of several assistants depending on group size, Sherpas will ensure you take the proper path, help on the way to the camp, help set up the camps, serve your meals, and help pack and unpack at camp site. The cook and kitchen staff will prepare delicious and nutritious meals. To transport all the gear from camp to camp we will use yaks. A typical trekking staff consists of a guide, a cook, and two kitchen staff, porters and yaks. At the end of the our trek, it is customary to tip the staff as a sign of your appreciation for the hard work they have done to make your trip a successful one.

Trekking Equipment: We provide top-quality, and time-tested equipment, group gear, and supplies, including two person North Face tents, dining and kitchen tents, portable toilet tents, cooking equipment, fuel, and other cooking supplies.

People and Culture: The Tibetans are classified as part of the Mongoloid family. They are probably descendents of a variety of nomadic tribes who migrated from the north and settled into a sedentary cultivation of Tibet's river valleys. The Tibetans living within the borders of present day Tibet are easily identified by their distinctive dialects, social customs and dress. The Topas live in the highland regions (Lato and Ngari), the Tsangpas in the West Tibet (Tsang), the Upas live in central Tibet, the Horpas comes from the north (Nagchu/Jangtang), the Kongpowas from the south, the Khampas live in the east, the Amdowa in the northeast, and the Gyarongwa in the extreme east. Travelers to Tibet inevitably find Tibetans to be friendly and possessing a great sense of humor. It is appreciated when you try and use Tibetan language when communicating with Tibetans. The further from Lhasa you travel, the more often Tibetan is used. Religion is extremely important to the majority of Tibetans, and travelers should strive to respect their customs and beliefs. Always circumambulate Buddhist religious sites or monastery in a clockwise direction, and when in a monastery do not wear a hat, smoke or touch frescoes. In addition, refrain from climbing onto statues, mani stones or other sacred objects They are warm and friendly people. Some speak a bit of English and are happy to have a chat with you. Please Do not photograph people without permission, and be aware that some locations prohibit photography without a fee.

Festival of Tibet: The Losar or New Year is celebrated in the month of February by the Tibetans. During Losar, Buddhist monks offer prayers for good health and prosperity at monasteries. People exchange various goods and gifts among them. Families organize feasts and perform dances. Saga Dawa (Buddha's Birthday), celebrated on the 15th day of the fourth lunar month, is an occasion for outdoor operas and to see many pilgrims at the Jokhang Temple and Mount Kailash. Gyanste Damang (Gyantse horse racing and archery), celebrated in May/June, honors the Tibetan marksmanship while riding at full tilt. Horse riding and archery competitions are held during this festival. Samye Dholdhe Festival is celebrated in the month of June, as pilgrims and monks from distant monasteries journey to Samye to watch masked dances and obtain blessings of Buddha. Zabling Chi Sang (World Incense Day) is a special day dedicated to pray for peace in the world. Ganden Khi-khu (Ganden Thangka Festival) is celebrated in July to honor the founder of the Gelugpa sect. Karma Durba (Bathing Week) is celebrated in August/ September. During the festival, the Lhasans flock to the waters of the Kyi Chu River which literally means Changing the stars in the belief that if they bathe all week, they will drive evil spirits from their bodies and enjoy good health in the following year.

Trip Extension: In addition to this tour, we can organize trip extensions both within Nepal and other neighboring countries. You may want to try white water rafting or go on a jungle safari in the deep jungles of Chitwan or take a cultural tour. You may as well take a trip to India or Bhutan, whichever appeals more to you. Please ask us for details or check our website www.peaktopeaktravel.com.

Best Time to take this trip: The best time to take this adventure is in April or May in the spring and September or October in fall. During these months the average temperature ranges from 50°F to 70°F, with blue skies and clear weather. From July to August there can be rain showers during the day. In the evening, at night and in the morning, it can be very cold. Temperatures could drop below 0°F.
Trek Cost: $6995
Book your trip now! We accept PayPal, credit cards and checks.
Travelers are responsible for round trip airfare from the USA to Nepal (Singapore Airlines has recently reduced their round trip airfare between Denver and Kathmandu with a connection in either Los Angeles or San Francisco to just $1600), mandatory evacuation and travel insurance, bottled drinks and alcoholic beverages, meals and transportation on free days in Kathmandu, personal shopping, tips for staff, visa fees, and airport exit fees.
For more information Please fill free to contact us:
Phone: (970) 631-7377
Email: Dawa@peaktopeaktravel.com
Address: 731 Stoddard Dr. Fort Collins, CO 80526 USA
Thank you,
Dawa Sherpa
Peak to Peak Travel
www.peaktopeaktravel.com