Everest Base Camp Trek and Island Peak Expedition
with Dawa and Pasang Sherpa

Duration: 23 Days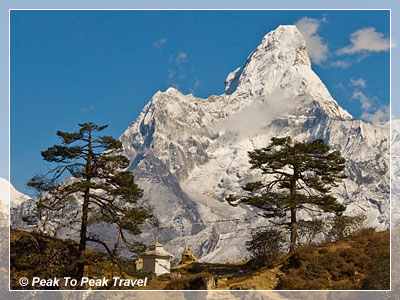 Island Peak is a mountain in the Himalayas of eastern Nepal. The peak was named Island Peak in 1951 by Eric Shipton's party since it appears as an island in a sea of ice when viewed from Dingboche The peak was later renamed in 1983 to Imja Tse but Island Peak remains the popular choice. The peak is actually an extension of the ridge coming down off the south end of Lhotse Shar. Imja Tse was first climbed in 1953 by a British team as a training exercise in preparation for Mt. Everest. Tenzing Norge Sherpa was one of the members of this first ascent team. Imja Tse is one of the most popular trekking peaks as it requires nominal mountaineering experience, especially when supported by a Nepalese climbing guide.
Everest Base Camp Trek and Island Peak Expedition is a combination of high altitude trek and expedition in the Nepal Himalayas. This trip is a way to explore the Sherpa culture and experience a trekking and mountaineering adventure in the Khumbu region. The Island Peak Expedition is a great introduction to mountaineering in Nepal Himalayas. Hiking up to the summit of the Kala Pattar (18448 ft.), and then hiking to Mt. Everest Base Camp (17500 ft.) will help with acclimatization before the Island Peak (20305 ft.) expedition.
Highlights of this trip are visiting Sherpa villages, the sacred Thyngbuche Monastery, hiking up to Kala Patthar (18448 ft.), hiking to the Everest Base Camp, the Khumbu Ice fall at 18000ft, and amazing views of the Himalayas from the summit of Island Peak (20305 ft.).
Individuals should be in good physical condition, and have hiking experience for this trek.
Dawa Sherpa will be leading this Organized Camping Trek.
Upcoming Trip Itinerary
Everest Base Camp Trek and Island Peak Expedition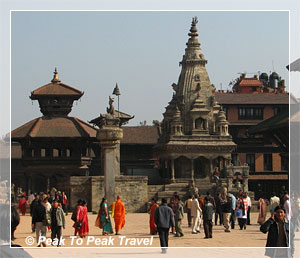 Temples in Kathmandu
Day 1: Depart U.S.
Day 2: In transit to Kathmandu
Day 3: Arrive in Kathmandu
Day 4: Layover in Kathmandu Optional sightseeing tour to Swayambhunath Stupa (the famed monkey temple), Bodhnath Stupa, and Pashupatinath Temple. Shopping for extra clothing and other personal items can be done in Thamel, Kathmandu.
Day 5: Kathmandu to Lukla about 35 minute flight and continue trek to Phakdingma (8700 ft.) Today is our first day of trekking. We will take it easy and trek about 4-5 hours by the Dudh Kosi (Milky River) and camp overnight at Phakdingma.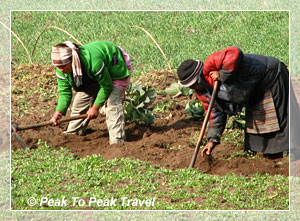 Farming in Nepal
Day 6: Phakdingma to Namche (11300 ft.) We'll continue to trek up to Namche. Elevation gain between Phakdingma and Namche is 2600 ft. We will stop at Jorsale for lunch and one hour rest before the Namche hill. The hike is very scenic.
Day 7: Acclimatization day in Namche (11300 ft.) Optional hike to Everest View Hotel and the world's highest airport Shyngbuche.
Day 8: Namche Bazaar to Khumjung (12402 ft.) We will take a 3-4 hour hike through Syngbuche and Sherpa village of Khunde. Then we will visit the Khunde hospital built by Sir Edmond Hillary and camp overnight at Khumjung, a beautiful traditional Sherpa village with exceptional stone walls.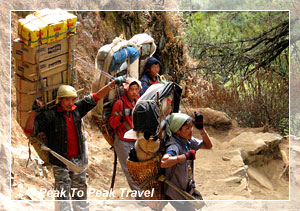 Local people carrying supplies
Day 9: Khumjung to Tengboche (12688 ft.) This is a very pleasant walk through the Sherpa village and the Sagaramatha National Park. We start walking down to Phungi Thanga and after crossing the Khumbu River we will hike up to Thyngbuche. At Thyngbuche we will camp near the sacred monastery. The views from this point are magnificent, but the best view from the campsite is sunset on Mt. Everest. We will see Mt. Everest, Mt. Amadablam, Lhotse, and many other peaks.
Day 10: Tengboche to Dingboche (14270 ft.) We will spend 4-6 hours walking through the Sherpa village of Pangboche with a close up view of Mt. Amadablam on your right side.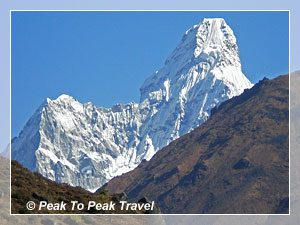 Mt. Amadablam
Day 11: Dingboche acclimatization day
Day 12: Dingboche to Labuche (16175 ft.) We will hike about 6-7 hours at high altitude, crossing the Khumbu River at Thukla. After lunch at Thukla, we will hike slowly up from this point to Labuche for camping.
Day 13: Labuche to Gorakshep (17008 ft.) This morning hike to Kala Patthar (18448 ft.) is one of the best places to view Mt. Everest, Mt. Pumori, and Mt. Nupse. Later in the day we will trek back to camp at Gorakshep for overnight camping.
Day 14: Gorakshep to Everest Base Camp (17500 ft.) We will hike 2-3 hours to reach the famous Everest Base Camp and experience the main base of the world's highest mountain and the Khumbu Ice fall. Then we will return to Labuche for camping overnight.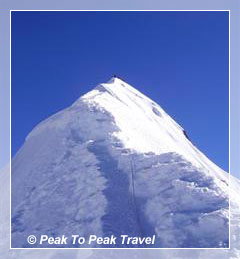 Island Peak
Day 15: Labuche to Chukhung (15518 ft.) Today we will Hike down from Lobuche to Dingboche and then hike for another 2 hours up to Chukhung.
Day 16: Chukhung to Island Peak High Camp (18200 ft.) Climbers, Sherpa climbing guides, and high camp cook staffs will continue on this the two day adventure. Sherpa climbing guides will assist you all the way to the summit of Island Peak.
Day 17: Island Peak Climb (20252 ft.) Return to Chukhung (15584 ft.) This will be your most challenging day with early morning climbing for better views from the summit of Island Peak and safe return to Chukhung.
Day 18: Chukhung to Tengboche (12664 ft.)
Day 19: Tengboche to Namche (11319 ft.)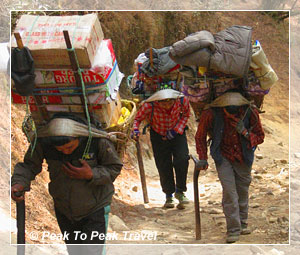 Local people carrying supplies
Day 20: Namche to Phakdingma (8900 ft.)
Day 21: Phakdingma to Lukla (9350 ft.)
Day 22: Lukla to Kathmandu
Day 23: Kathmandu onward
Trek Cost: $2950
Book your trip now! We accept PayPal, credit cards and checks.
The trip cost is $2950 with single supplement of $300. The total cost includes trekking permits, Island Peak climbing permit, climbing gear, the Sagaramatha National Park fee, meals (breakfast, lunch, and three course dinners prepared by our cooks using local organic produce), tea house lodging (if needed), staff salary, four nights hotel in Kathmandu, one day sightseeing in Kathmandu, round trip airfare from Kathmandu to Lukla and airport transportation. If we need to use the tea house we will choose the best available tea houses/lodges.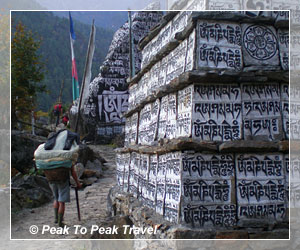 Mani Wall
Travelers are responsible for round trip airfare from the USA to Nepal (Singapore Airlines has recently reduced their round trip airfare between Denver and Kathmandu with a connection in either Los Angeles or San Francisco to just $1600), mandatory evacuation and travel insurance, bottled drinks and alcoholic beverages, meals and transportation on free days in Kathmandu, personal shopping, tips for staff, visa fees, and airport exit fees.
We also organize trips to Chitwan National Park or Tibet (Lhasa) from Kathmandu.
Thank you,
Dawa Sherpa
Peak to Peak Travel
www.peaktopeaktravel.com
Comments from a satisfied customer
"The Khumbu and Gokyo-Ri have been on my "must do" list for over a decade. Dawa Sherpa and Peak-to-Peak Travel fulfilled my dreams and a whole lot more. I thought that the 10-day trek would be the highlight of the trip. Well, was I wrong! The highlight was spending our time from start to end with Dawa, Pasang, and all their Sherpa friends who call this wonderful place their home. Some of the photos on Peak-to-Peak's website are from our trip, and they aren't half as spectacular as being there! The trip vastly exceeded my expectations. No doubt one can manage their own trek. What I didn't realize until going with Peak-to-Peak travel is that having someone who grew up in this region, and who now lives in the US, adds a very special cultural flavor to the experience that makes one feel at home. Dawa seems to know everyone in the region, and he knows what to do to get the best rooms and food at each of the tea houses we visited. I can't wait to get back to Nepal!"
-Darin