Mustang Trek and Lo-Mathang Tiji Festival
Listed as world's 3rd Best Region to Trek in 2013 by Lonely Planet
Travel duration: 19 days (Tiji Festival dates are May 6, 7, and 8 this year)
Mustang is the kingdom within the kingdom of Nepal. Since 1991, this region has been open especially for the foreigners. A visit to this kingdom of 2000 square kilometer barren valley floor is travel back in time. The earth beaten walls of the capital, Lo-Manthang, represent a scene out of an authentic medieval city. Time barely moves in this arid land situated in the Trans Himalayan region to the north of Annapurna and Dhaulagiri massifs. Not a single tree grows in this desolated landscape, but thankfully for the visitors, Mustang has a lot of exotic things to offer.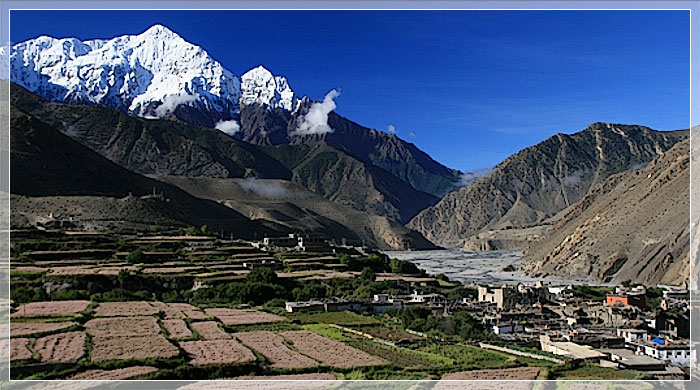 Much of the caravan trail followed by the trekkers overlooks a splendid panorama of Annapurna, Dhaulagiri, Tilicho, Nilgiri and a whole range of other towering mountain masses. As you cross high mountain passes, prayer flags flutter and greet you, babies cry in cliff dwellings and in houses built atop crags, and lamas blow horns in lavish monasteries. The trail descends down to canyons, crosses plateaus, and runs alongside the longest Mani wall in Nepal.
A trip to this restricted area is like being caught in a time warp. This remote region is still practicing the ancient Bo religion. Those who wish to venture here will come back having experienced a way of life unchanged for centuries. A trek to this area is best during the summer months when the temperature is tolerable and the people are busy in their daily chores.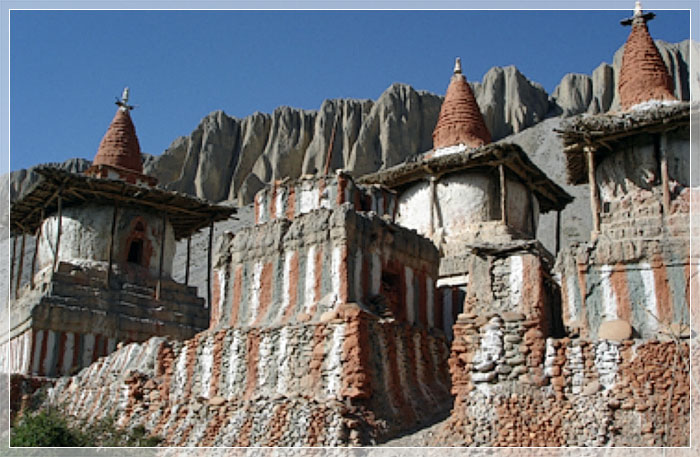 Our Journey through the caravan trail will take us to the Tiji Festival in Lo- Mathang. Tiji Festival is the popular festival celebrating in the Upper Mustang region by the Tibetan Buddhist people. Tiji festival is celebrated over three days to smear the killing of a demon by DorjeSonam, the demon's son. The word Tiji came from Tibetan language which means a prayer for the world peace. The festival is celebrated on the fifth month of the Tibetan lunar calendar, which usually falls under the May month in English calendar. Two huge Thangkas are displayed during the festivals. Tiji festival is celebrated in three days with dances perform by the monks of LomanthaniChhyodeGumba. The monks perform a dance called "TsaChham" on the first day of the Tiji and "NgaChham" on the second day.
Monks performing ritual dance during Tiji Festival
The Tiji Festival is organized by ChhyodeGumba which is monastery of Sakyapa located in Lo-Manthang, upper mustang. Villagers from all over ancient kingdom of Lo-Manthang come to watch the dance and to participate in the Tiji festival.
Kaligandaki valley and upper mustang region is naturally decorated and filled with monasteries, its attractive natural beauty and sacred monasteries definitely wins your eyes and heart. An unforgettable memory marks in your life after completing Tiji festival trek in upper mustang. Itineraries of Tiji festival trek in Upper Mustang have been carefully designed by the trekking expert of Nepal Himalaya trek.
As one of the best-preserved destinations in all of the Himalayas, the region has been protected by special permits limiting tourist travel. It is a rare privilege to travel within the Kingdom of Lo (as Mustang is locally known), and Peak to Peak Travel will take you on an unforgettable journey to the heart of this Forbidden Kingdom.
Trek Highlights:
Trek in a highly restricted area.
Explore a kingdom long isolated from the outside world.
Attend the Tiji festival in Lo-Mathang
Discover 14th century Buddhist monasteries in villages and remote cave sites.
Itinerary for Mustang Trek and Tiji Festival
Day 01: arrival Kathmandu and transfer to Hotel
Day 02: rlight to Pokhara & overnight hotel
Day 03: flight to Jomson & Trek to Kagbeni   
Upper Mustang ( Restricted Area):
Day 04: Kagbeni - Chele - Camping
Day 05: Chele - Gilling - Camping    

Day 06: Gilling - Ghami - Camping
Day 07: Ghami - Tsarang - Camping
Day 08: Tsarang - Lo-Manthang - Camping
Day 09: Lo-Manthang Day hiking - Camping (First Day of Tiji Festival)  
Day 10: Lo-Manthang - Tiji Festival   
Day 11: Lo-Manthang - Tiji Festival Ends
Day 12: Lo-Manthang - Ghami  - Camping
Day 13: Ghami - Samar - Camping
Day 14: Samar - Chhusang - Camping
Day 15: Chhusang - Kagbeni - Camping
Exit restricted area
Day 16: Kagbeni - Jomsom
Day 17: Jomsom - Pokhara & Kathmandu flights
Day 18: Kathmandu - free day - Shopping
Day 19: Depart Kathmandu
Trek Cost: $3495
Book your trip now! We accept PayPal, credit cards and checks.
This trek is a fully organized camping trek
Cost Includes:
3 nights hotel in Kathmandu 4 star bed & breakfast
1 night hotel in Pokhara Bed and breakfast
Guide, assistance guides and porters wages
Meals: breakfast, lunch, dinner (freshly prepared by our cooks)
Accommodation during trek with full service camping
Annapurna Conservation Area permit
Pokhara - Jomsom - Pokhara - Kathmandu airplane tickets ($350.00 per person)
Airport/hotel/airport transfer
Upper Mustang permit ($600.00 per person) for 12 days
Fee associated with Tiji Festival
Our service charge
Cost Excludes:

All expenses of a personal nature
Personal travel insurance
Lunch and dinner in Kathmandu & Pokhara
Medical evacuation (If needed)
Tips for guide & porter
Laundry, phone calls
Alcoholic beverages
Dawa Sherpa
Peak to Peak Travel
www.peaktopeaktravel.com