Annapurna Circuit Trek
Duration: 23 days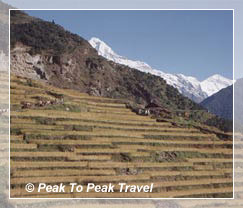 The Annnapurna circuit has become the most popular trek in Nepal. It is considered the best of Nepal's Classic Mountain treks.
This trek takes you through diverse mountain villages from the lower land of rice fields, bamboo, and rhododendron and oak forests, to high mountain glaciers, peaks, and the world's deepest river gorge, the Kali Gandaki River Valley. The trail follows the Marshyangdi Valley north to the mountain village of Manang, crosses snow covered Thorang La pass (5430m.), then travels down the pass to Muktinath, an important destination of Hindu and Buddhist pilgrimages, and returns to Pokhara via the Kali Gandaki River.
A trek around Annapurna offers hot springs, apple and apricot plantations, gorgeous mountains, Buddhist monasteries, prayer walls, chortens, and the huge ice fall of Gangapurna [7455m]. This region is rich in flora and fauna and breathtaking views. Animal inhabitants include the marten, 4 species of wild deer, 2 species of monkeys, the elusive snow leopard and over 400 species of birds.
At the trek's end is the unique and exotic Pokhara Valley. It offers a mild climate and magnificent views of high mountains and snowy peaks. It is the perfect place to rest and relax while dining next to the beautiful Pokhara Lake.
Upcoming Trip Itinerary - Annapurna Circuit - Thorong La Pass Trek
(The best months for trek are March-May and September-November)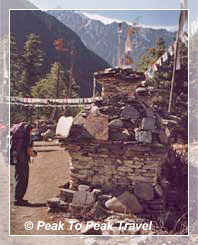 Day 1-2: In transit to Nepal
Day 3: Arrive in Kathmandu
Day 4: Drive to Beshishar. This is quite a scenic drive via the Canyon of the Trisuli River. The second half of the drive is through the villages and farms of the canyon of the Marshayngdi River up to Beshisahar.
Day 5: Trek to Ngadi (3050 ft.) The first day of this trek takes you through the rice fields and villages of Marshyandi River valley.
Day 6: Trek to Jagat (4330 ft.) Today we continue to trek through the Marshyngdi River Valley. Beautiful waterfalls and small villages add beauty to this hike to Jagat.
Day 7: Trek to Dharapani (6100 ft.) On the trail to Dharapani we will see beautiful waterfalls and scenic rivers.
Day 8: Trek to Chame (8760 ft.) Chame is the headquarters of the district of Manang. Tibetan shops, tea houses, a bank, and a Post office facility make Chame a business center of this region.
Day 9: Trek to Pisang (10500 ft.) This is a beautiful trek through pine forests with views of the mountains.
Day 10: Trek to Manang (11615 ft.) Manang is one of the largest villages in this area. The views of Gangapurna are magnificent. The town of Manag is a trading center for tourists and the local people. They have good tea houses and bakeries here.
Day 11: Rest and acclimatization day in Manang.
Day 12: Trek to Yak Kharka (13415 ft.) Most people from the Manang use this area for their Yak ranches. Yaks are a domestic animal that they raise in the high Himalayan regions of Nepal.
Day 13: Trek to Thorong High Camp (16010 ft.) This is a beautiful hike in the high mountain tundra. The views of the mountains and the upper Manag Valley are magnificent.
Day 14: Thorong La (17768 ft.) to Muktinath (12460 ft.) This is the most challenging day of the whole trek. We will start early in the morning from the high camp to avoid the high winds at the pass. We will descend the pass and camp at Muktinath, one of the Hindu and Buddhist spiritual sites.
Day 15: Trek to Marpha (8760 ft.) Marpha is known for the best apple brandy and apple and apricot fruit gardens.
Day 16: Trek to Kalapani (8300 ft.) A pleasant day of trekking along the banks of Kaligandaki River.
Day 17: Trek to Tatopani (3900 ft.) This place has several hot mineral springs. We will enjoy them this evening and soak our sore feet.
Day 18: Trek to Ghorepani (9380 ft.) The Mountain Views from Gorapani are spectacular. Mt. Daulagiri (26787 ft.) and Mt. Annapurna South (23684 ft.) are only a few miles away.
Day 19: This morning we hike to Punhill. This is the best place to see the sun rise on Mt. Daulagiri or the Annapurnas. In the spring, rhododendrons blooms cover this area. We will trek to Tadapani for overnight camp.
Day 20: Trek to Gandruk. Gandruk is the most beautiful Gurung village in this region. The views of the Mt. Machhapuchhere (22943 ft.) (fish tail) and the Annapurna add extra beauty to this village. Farmers will be harvesting their corn, millet, and rice crops during the fall season.
Day 21: Gandruk to Nayapul and drive to Pokhara. We have a pleasant walk through the Gurung villages, and an hour drive to the beautiful city of Phokhara. We will stay at hotel in Phokhara overnight.
Day 22: Fly to Kathmandu. On the short flight to Kathmandu we will enjoy views of Mt. Machapuchre and Mt. Manasolu on the left side of the plane.
Day 23: In Kathmandu/onward
Trek Cost: $2595
Book your trip now! We accept PayPal, credit cards and checks.
The total trek cost depends on the number of people in your group
Group size
Total cost per person
4-6
$2595 per person
6-10
$2295 per person
10-16
$1995 per person
Single supplement cost is an additional $360 per person
The maximum number of people in a group is 16 and the minimum is 4
The total cost includes transportation to Beshisahar by private car/bus, the Annapurna National Park fee, The Annapurna Circuit Trek permit, air ticket from Pokhara to Kathmandu, group leader, guide, cooking team, porters and the Sherpa's salary, and all meals (breakfast, lunch and three course dinner) prepared by our cooking team using best available natural and organic produce from the Annapurna region, 4 nights hotel in Kathmandu, one night hotel in Pokhara, and Pokhara Kathmandu air ticket.
Travelers are responsible for round trip airfare from the USA to Nepal (Singapore Airlines has recently reduced their round trip airfare between Denver and Kathmandu with a connection in either Los Angeles or San Francisco to just $1600), mandatory evacuation and travel insurance, bottled drinks and alcoholic beverages, meals and transportation on free days in Kathmandu, personal shopping, tips for staff, visa fees, and airport exit fees.
Thank you,
Dawa Sherpa
Peak to Peak Travel
www.peaktopeaktravel.com