Mt. Island Peak and Mt. Ama Dablam Expedition
Duration: 39 days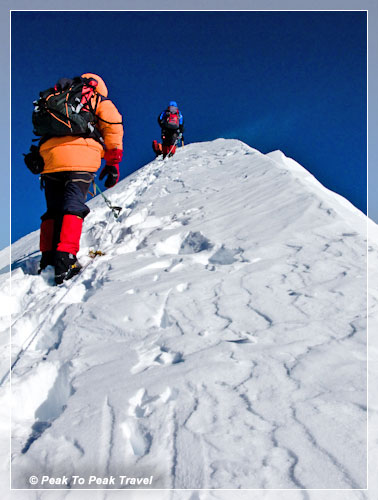 Expedition in the Himalayas (photo by Claudia Lopez
)
Island Peak is a mountain in the Himalayas of eastern Nepal. The peak was named Island Peak in 1951 by Eric Shipton's party since it appears as an island in a sea of ice when viewed from Dingboche The peak was later renamed in 1983 to Imja Tse but Island Peak remains the popular choice. The peak is actually an extension of the ridge coming down off the south end of Lhotse Shar. Imja Tse was first climbed in 1953 by a British team as a training exercise in preparation for Mt. Everest. Tenzing Norge Sherpa was one of the members of this first ascent team. Island Peak is one of the most popular trekking peaks as it requires nominal mountaineering experience, especially when supported by a Nepalese climbing guide. We will summit Island peak in preparation – both in terms of climbing and acclimatization before attempting Ama Dablam
Ama Dablam is a mountain in the Himalaya range of eastern Nepal. The main peak is 6,812 metres (22,349 ft); the lower western peak is 5,563 meters (18,251 ft). Ama Dablam means "Mother's necklace"; the long ridges on each side like the arms of a mother (ama) protecting her child, and the hanging glacier thought of as the dablam, the traditional double-pendant containing pictures of the gods, worn by Sherpa women. For several days, Ama Dablam dominates the eastern sky for anyone trekking to Mount Everest basecamp.
Ama Dablam was first climbed on March 13, 1961 by Mike Gill (NZ), Barry Bishop (USA), Mike Ward (UK) and Wally Romanes (NZ) via the Southwest Ridge. They were well-acclimated to altitude, having wintered over at 5800 meters near the base of the peak as part of the Silver Hut Scientific Expedition of 1960-61, led by Sir Edmund Hillary.
Ama Dablam is the third most popular Himalayan peak for permitted expeditions. The most popular route by far is the Southwest Ridge. Climbers typically set up three camps along the ridge with camp 3 just below and to the right of the hanging glacier, the Dablam. Any ice that calves off the glacier typically goes left, away from the camp. However, a 2006 avalanche proved otherwise. A climbing permit and a liaison officer are required when attempting Ama Dablam. As with Mt. Everest, the best climbing months are April-May (before the monsoon) and October-November (before the winter).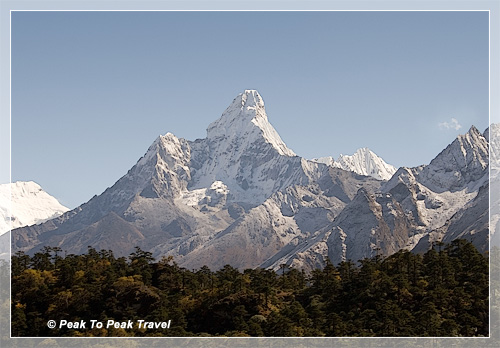 Mt. Ama Dablam (22,349 ft) - photo by Dawa Sherpa
For Ama Dablam, we will take the Classic route (Southwest Ridge), as it was climbed by the first ascent team led by Barry Bishop in 1961. This classic route is technically challenging. Our guides and Sherpas will lead the route and fix lines where they are useful. We will approach Base Camp and the climb slowly, enjoying the Khumbu region and allowing our bodies to acclimatize. When we move through Camps I, II and III on our route we will be climbing through some of the most spectacular, varied and aesthetic terrain a mountaineer could hope for. This demanding route requires commitment and skill, and offers the thrills of airy exposure.
Upcoming Trip Itinerary - Mt. Island Peak and Mt. Ama Dablam Expedition
Day 1: Depart U.S.
Kathmandu (photo by Dawa Sherpa
)
Day 2: in transit to Kathmandu
Day 3: Arrive in Kathmandu
Day 4: Arrive in Katmandu
Transport to the Yak and Yeti Hotel (www.yakandyeti.com), one of the finest hotels in Katmandu with excellent accommodations and a quiet atmosphere to unwind. A good rest is highly recommended to offset jet lag!
Day 5: Exploring Katmandu and beyond
"Proper" introductions to Katmandu are nonexistent—we will begin our journey by jumping directly into the exhilarating and delightful chaos that is Katmandu. We will visit some of Nepal's most famed religious sights, including Swayambhunath Stupa, the famed monkey temple, Bodhnath, the largest Buddhist stupa in Nepal, and Pashupatinath Temple, Nepal's largest and holiest Hindu shrine. There will also be plenty of free time to visit the overflowing markets and enticing restaurants of this exhilarating city. Shopping for extra clothing and other personal items can be done in Thamel, a backpackers' heaven whose many Internet cafes, hotels, shops and pestilent vendors can be rivaled only by Bangkok's Khao San Road.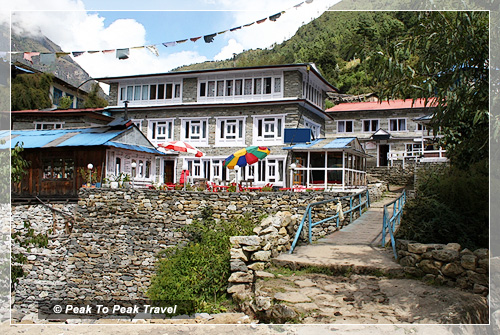 Teahouse - photo by Dawa Sherpa
Day 6: Katmandu to Lukla - Trek to Phakding
We begin our day with a quick 35 minute flight to Lukla, a mountain travel hub located Northeast of Katmandu. Longing to finally lace up those hiking boots? You're in luck, because today is also our first day of trekking! We will trek about 3-4 hours by the Dudh Kosi (Milky River) and camp/lodge overnight at Phakdingma 2,700m (8,700ft).
Day 7: Trek from Phakdingma to Namche Bazaar (11,300 ft)
Our day begins in the Dudh Kosi Valley from Phakdingma to Namche Bazaar. Crisscrossing over the Dudh Kosi roughly six times, we will take in the breathtaking views from multiple suspension bridges, as well as spot mountain goats, musk deer and the Nepali national bird, Daphne, in the Sagarmatha National Park. We will stop at Jorsale, a beautiful village about a half hour walk from the Sagaramatha National Park check post. After lunch we will continue our trek up Namche hill, a two hour climb which is beautiful yet difficult, with an elevation gain of roughly 800m (2,600 ft)- a true accomplishment for any trekker (a view of a peeking Everest serves as an ample reward). Hikers from across the globe scatter this trail, making for interesting and dynamic conversation along the way. We end our day at the Namche Bazaar, a bustling village filled with your every need- including impossibly delicious baked goods, stunning scenery and hundreds of hotels and tea houses.
Day 8: Acclimatization day in Namche (11,300 ft)
To accustom our bodies to the sudden increase in altitude, a relaxing day in Namche is necessary for all trekkers. With more than enough activities to fill an entire week, Namche is the ideal place to relax and absorb the Himalaya. We will visit the Sherpa Culture Center and Museum, and in the evening we will all reconvene for a visit to the Tibetan Trading Market, a lively market filled with trinkets and goodies galore. There is also an optional hike to the Everest View Hotel for some of the best mountain views during our trek, or for a hot cup of coffee or spot of tea.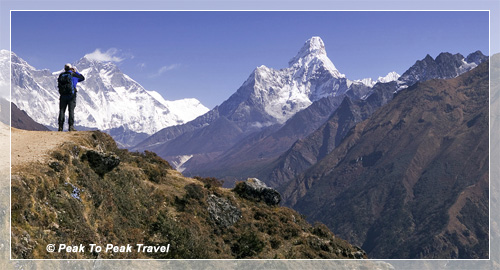 View of Mt. Ama Dablam (photo by Dawa Sherpa.)
Day 9: Khumjung to Tengboche (12688 ft)
This is a very pleasant walk through the Sherpa village and the Sagaramatha National Park. We start walking down to Phungi Thanga and after crossing the Khumbu River we will hike up to Thyngbuche. At Thyngbuche we will camp near the sacred monastery. The views from this point are magnificent, but the best view from the campsite is sunset on Mt. Everest. We will see Mt. Everest, Mt. Amadablam, Lhotse, and many other peaks.
Day 10: Tengboche to Dingboche (14270 ft)
We will spend 4-6 hours walking through the Sherpa village of Pangboche with a close up view of Mt. Amadablam on your right side.
Day 11: Dingboche acclimatization day
Day 12: Dingboche to Island Peak Base Camp (16175 ft)
Day 13: Chukhung to Island Peak High Camp (18200 ft)
Climbers, Sherpa climbing guides, and high camp cook staffs will continue on this the two day adventure. Sherpa climbing guides will assist you all the way to the summit of Island Peak.
Day 14: Island Peak Climb (20252 ft.) Return to Chukhung (15584 ft)
Today is a challenging day with early morning climbing for better views from the summit of Island Peak and safe return to Chukhung.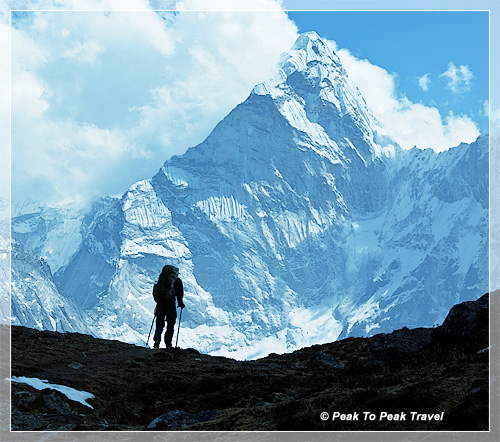 Hiker on Mt. Ama Dablam (22,349 ft)
Day 15: Ama Dablam Base Camp (15,000 feet)
The uphill trek along the river allows for breathtaking photos of Ama Dablam that towers ominously above us, and the Southwest ridge comes into clear view! Just after the village of Pangbouche we descend down to the Dudh Kosi and cross a small bridge and then follow the trail as it climbs up to Ama Dablam Base Camp (15,000 feet). Our Sherpa, porters and cooks will have already established base camp and we will be greeted with warm smiles, hot tea and a delicious lunch. The rest of the afternoon can be spent relaxing in the sun watching climbers high on the mountain as they descend the upper snow face of the Dablam Glacier.
Day 16: Free day at Ama Dablam Base Camp
Day 17: Advanced Base Camp (17,700 feet)
Today we make a carry up the large lateral moraine towards Advanced Base camp (ABC) at 17,700 feet. where views of the surrounding 5000m peaks are impressive. We return back to base camp for the evening. We will use the strategy of climb high & sleep low to maximize our ability to acclimatize.
Day 18: ABC
Our group hikes back up to ABC to sleep for the evening.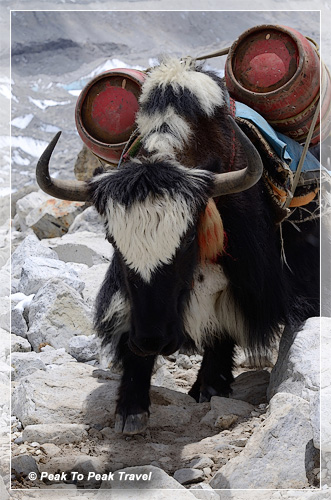 Yak on the trail (photo by Dawa Sherpa.)
Day 19: Camp I (18,900 feet)
After breakfast, we hike up a ridge until it drops down along the base of Ama Dablam. Scrambling from boulder to boulder, we reach the base of the slabs that challenge us with the first technical climbing (Class 4). Reaching the tops of the slabs and on to the ridge proper, one begins to get a sense of the exposure Ama Dablam is famous for. Camp I is established on the crest of the ridge at 18,900 feet. After leaving a cache at CI, we will return back to base camp for the night.
Day 20: Base Camp
Rest day at Base Camp.
Day 21: Advanced Base Camp
We ascend back to Advanced Base camp for a second night. Most people find this second night to be a bit more restful!
Day 22: Camp I
Our group climbs back up across the boulders, scrambles up the slabs to the ridge and arrives at Camp I. We will spend the night at Camp I.
Day 23: Base Camp
Climb high on the ridge towards Camp II before descending back to base camp. The rest of the day we will rest in the pleasures of base camp.
Day 24: Base Camp
Free Day at Base Camp.
Day 25: Camp I
We begin our summit push and ascend to Camp I.
Day 26: Camp II (19,500 feet)
The first summit team will begin their summit attempt, moving to Camp II at 19,500 feet. The climbing from Camp I to II is some of the most exciting rock climbing on the route. The entire route is fixed, and climbers will be connected to this rope via jumar and sling as they traverse 4th and 5th class rock (up to 5.7) around gendarmes and up towers. The rock is impeccable, the exposure intense and the views awe inspiring! Camp II is perched on a narrow ledge with incredible exposure and views of the upper mountain and surrounding peaks.
Day 27: Camp III (21,000 feet)
From Camp II, we climb mixed snow, rock and ice up the massive yellow tower and then traverse left into a wild fluted corner. After climbing this 50 degree snow couloir we reach the "mushroom ridge." We climb along this exposed snow ridge and reach Camp III at 21,000' which is situated just to the side of the massive Dablam hanging glacier.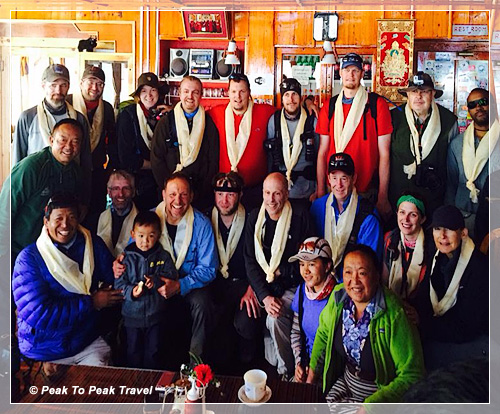 Expedition group photo (photo by Dawa Sherpa.)
Day 28: Summit day (22,350 feet)
The day begins with steep climbing right out of camp up toward the Dablam Glacier. The route traverses right, around some crevasses and then meets up with the 40–60 degree snow rib that leads to the summit (22,350 feet). At the top there are beautiful views of Mt. Everest, Lhotse and Makalu. We then descend down to Camp III for the night.
Day 29: Base Camp
From Camp III we head back to base camp for our celebration dinner.
Day 30-33: Base Camp
Extra days for summit attempts in case of weather problems!
Day 34: Trek to Namche
Day 35: Trek to Lukla
Day 36: Morning flight to Kathmandu
Day 37: Free Day in Kathamdu
Day 38: Depart Kathmandu
Day 39: Arrive back to USA
Trek Cost: $6995 (Deposit: $1500)
Book your expedition now! We accept PayPal, credit cards and checks.
Expedition Cost Includes:

Peak permit fee for Island Peak and, Mt. Ama Dablam
Airport transfers as per the itinerary.
Your Travel Insurance which include; travel, accident, medical and emergency evacuation
Full board during Trek, climbing and at Base Camp
Satellite phone and Solar light at base camp
Walkie-talkie for each member for use during the course of the expedition
All kitchen and dining equipment (kitchen tent, dining tent, toilet tent, stools and tables at both Island peak and Mt. Ama Dablam base camp)
Tents at Base Camp and higher camps for members, staff
Food and Fuel for higher camps
Common climbing equipment such as ropes, ice screws, ice bar, pitons, etc.
Hotel accommodation in a Tourist Class hotel on a twin sharing basis (bed & breakfast) in Kathmandu for a total of five nights before or after expedition
Scheduled flight Kathmandu-Lukla-Kathmandu for members, staff, Liaison Officer
Sagarmatha National park entry fee
One High altitude Sherpa for each climbing member
Personal gear cargo costs to and from Lukla
Porter costs for members' equipments, food and fuel, kitchen and dining arrangements from Lukla to Mt. Ama Dablam Base Camp and return to Lukla
Sleeping tent at base camp for members, staff, and Liaison officer
Services of Cook and Kitchen boy at Base Camp
Equipment and daily allowance for Climbing Sherpas, Liaison Officer, Cook, and kitchen boy
Insurance for climbing Sherpas, Liaison officer, Cook, Kitchen Boy, and local porters.
Garbage disposal charge at SPCC in Namche Bazar
Expedition Cost Does Not Include:

International air travel tickets
Original entry visa into Nepal. It can be obtained at the Airport on arrival.
Lunch and dinner in Kathmandu.
Related charges for communication equipment and filming applied as per regulation
Nepal custom duty for import of expedition goods arriving into Nepal by air/road cargo.
Expenses of personal nature such as drinks, laundry, postage, telephone calls etc.
Oxygen & Mask regulator etc.
Dawa Sherpa
Peak to Peak Travel
www.peaktopeaktravel.com