Everest View Trek and Thyngbuche Mani Rimdu Festival
Duration: 18 Days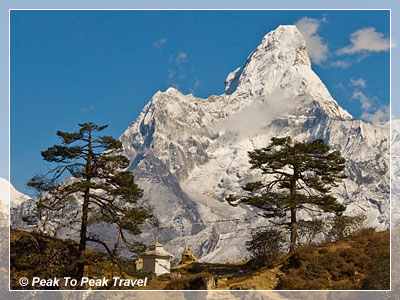 Everest View Trek and Thyngbuche Mani Rimdu Festival: This special trek will immerse you in the cultural, spiritual and natural beauty, both off and on the beaten path of the Everest region of Nepal. We will traverse mountain routes as well as attend the Thyangboche Mani Rimdu Festival known worldwide. For the two week duration, you will spend your nights in local lodges owned and operated by Sherpa people, and also out camping under the stars. This unique experience will immerse you in the local Nepalese mountain culture, inhale the clean crisp air, and interact with local Sherpa peoples, learning from their culture and customs. Highlights of this journey include trekking through the mountain villages of humble Khumbu, attending the colorful and cacophonous Mani Rimdu festival at the sacred Thyangboche Monastery, and learning the Sherpa culture.
Upcoming Trip Itinerary
- Everest View Trek and Thyngbuche Mani Rimdu Festival
Day 1: Depart U.S. Flight connecting from L. A. or San Francisco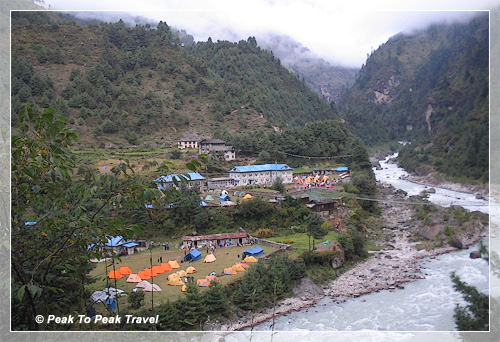 Camping at Phakdingma
Day 2: in transit to Kathmandu
Day 3: Arrive in Kathmandu
Transport to the Yak and Yeti Hotel (www.yakandyeti.com), one of the finest hotels in Katmandu with excellent accommodations and a quiet atmosphere to unwind. A good rest is highly recommended to offset jet lag!
Day 4: Exploring Katmandu and beyond
"Proper" introductions to Katmandu are nonexistent—we will begin our journey by jumping directly into the exhilarating and delightful chaos that is Katmandu. We will visit some of Nepal's most famed religious sights, including Swayambhunath Stupa, the famed monkey temple, Bodhnath, the largest Buddhist stupa in Nepal, and Pashupatinath Temple, Nepal's largest and holiest Hindu shrine. There will also be plenty of free time to visit the overflowing markets and enticing restaurants of this exhilarating city. Shopping for extra clothing and other personal items can be done in Thamel, a backpackers' heaven whose many Internet cafes, hotels, shops and pestilent vendors can be rivaled only by Bangkok's Khao San Road.
Day 5: Katmandu to Lukla - Trek to Phakding
We begin our day with a quick 35 minute flight to Lukla, a mountain travel hub located Northeast of Katmandu. Longing to finally lace up those hiking boots? You're in luck, because today is also our first day of trekking! We will trek about 3-4 hours by the Dudh Kosi (Milky River) and camp/lodge overnight at Phakdingma 2,700m (8,700ft).
Trekking time: 3-4 hours
Altitude: 200m (650ft) descent

Sunset view of Mt. Everest
Day 6: Trek from Phakdingma to Namche Bazaar (11,300ft)
Our day begins in the Dudh Kosi Valley from Phakdingma to Namche Bazaar. Crisscrossing over the Dudh Kosi roughly six times, we will take in the breathtaking views from multiple suspension bridges, as well as spot mountain goats, musk deer and the Nepali national bird, Daphne, in the Sagarmatha National Park. We will stop at Jorsale, a beautiful village about a half hour walk from the Sagaramatha National Park check post. After lunch we will continue our trek up Namche hill, a two hour climb which is beautiful yet difficult, with an elevation gain of roughly 800m (2,600ft.)- a true accomplishment for any trekker (a view of a peeking Everest serves as an ample reward). Hikers from across the globe scatter this trail, making for interesting and dynamic conversation along the way. We end our day at the Namche Bazaar, a bustling village filled with your every need- including impossibly delicious baked goods, stunning scenery and hundreds of hotels and tea houses.
Trekking time: 5-6 hours
Total altitude gain/loss: 800m (2600ft) ascent, 100m (328ft) descent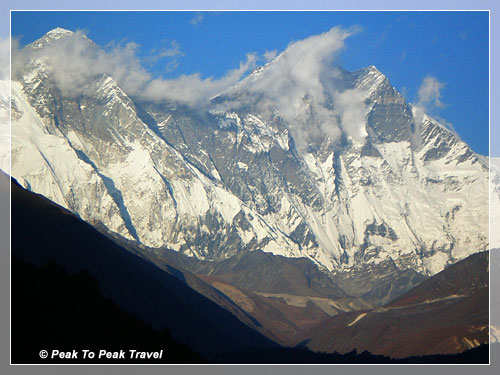 View of Mt. Everest and Mt. Lhotse
Day 7: Acclimatization day in Namche (11,300ft)
To accustom our bodies to the sudden increase in altitude, a relaxing day in Namche is necessary for all trekkers. With more than enough activities to fill an entire week, Namche is the ideal place to relax and absorb the Himalaya. We will visit the Sherpa Culture Center and Museum, and in the evening we will all reconvene for a visit to the Tibetan Trading Market, a lively market filled with trinkets and goodies galore. There is also an optional hike to the Everest View Hotel for some of the best mountain views during our trek, or for a hot cup of coffee or spot of tea. Namche Bazaar to Everest View Hotel:
Trekking time: 2 hours
Total altitude gain/loss: 424m (1,390 ft) ascent and descent
Hiking to Khumjung
Day 8: Namche Bazaar to Khumjung (12,402 ft)
There are several routes to take out of Namche Bazaar onward. We will take a beautiful hike through Shyangboche, following packs of school children as they help guide us with smiles and laughter along the way. Along this route we will stop at the Sherpa village of Khunde and visit the Khunde Hospital built by Sir Edmond Hillary and the sacred monastery of Khumjung. Known for its incredible stone walls, Khumjung is not only an architectural spectacle, but the Khumbu's largest village. Mount Khumbila (more correctly Khumbu Yul Lha) the sacred peak, forms a dramatic backdrop to Khumjung.
Trekking time: 3-4 hour
Total Altitude gain 340m (1,100ft) ascent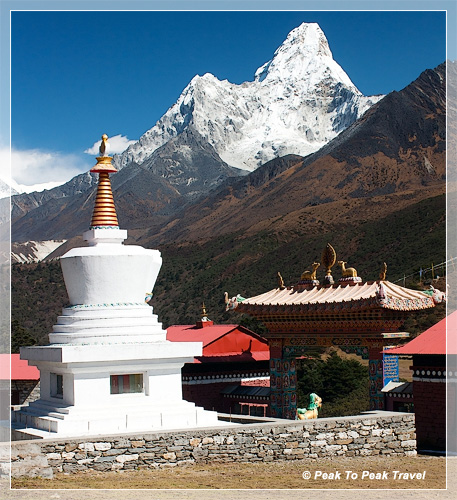 Thyngbuche Monastery
Day 9: Khumjung to Phortse (12,467ft)
Today we trek via a beautiful mountain, Mon la. Mountain goats and other Himalayan animals are seen on this trail. The views of the mountains Mt. Amadablam, Mt. Lotse and Mt. Everest are magnificent. After an hour rest at the top of Mong La, we will hike down to Phortse Tanga (river side) cross the Phortse Thanga River and hike up to Phortse. Phortse is a beautiful Sherpa village.
Trekking time 5-6 hours
Total Altitude gain/ loss 380m (1,250ft) ascent and 320m (1,050ft) descent
Day 10: Phortse to Thyngboche (13,688ft)
Our trek begins with a pleasant walk through the Sherpa village of Phortse and the Sagaramatha National Park. The trail leads us down to the Dudh Koshi River. We will hike up to Thyngbuche through a beautiful pine and rhododendron forest after we cross the Dudh Koshi River. The hike uphill is somewhat challenging but it is short hike. We will camp near the sacred monastery at Thyngbuche. The views from this point are magnificent. The best views from the campsite are at sunrise and sunset of Mt. Everest. Mt. Everest, Mt. Amadablam, Lhotse, and many other peaks are seen from our campsite.
Trekking time 3-4 hours
Total Attitude loss/gain 250m (850ft) descent and 370m (1,220ft) ascent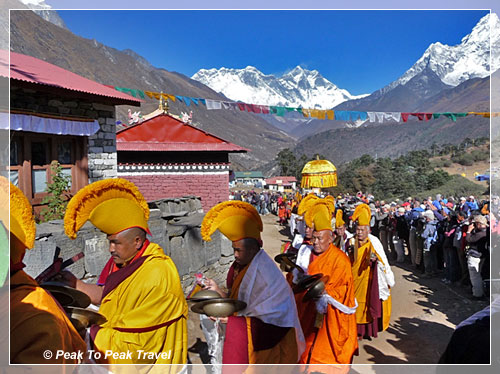 Thyngboche Mani Rimdu Festival
View of Mt. Everest, Mt. Lotse and Mt. Amadablam
Day 11-12: Tengboche Mani Rimdu Festival
The Mani Rimdu Festival is one of the top ten festivals in Nepal. The main purpose of Mani Rimdu is to send prayers of worship to Pawa Chenrezig, the God of compassion, whose blessing brings peace and good fortune to everyone. High lamas (shamans) perform evocative Buddhist movements in a vibrant, ritualistic Mask Dance followed by the Sherpa Shebru Dance in the evening. We will spend the night in a beautiful campsite.
Day 13: Thyangbuche to Namche Bazaar
Today we trek back to Namche Bazaar. The trek back from Thyangbuche to Namche is an easy six mile walk, passing through delicate forests and passing trekkers just beginning their journeys.
Trekking Time: 3-5 hours
Total Altitude: 750m (2,500ft) descent and 350m (1,200ft) ascent
Day 14: Trek from Namche to Lukla (9300ft)
It's time to take it easy as we make our way down Namche hill. We will cross multiple suspension bridges, stop in a lovely organic garden restaurant for a leisurely lunch, and bask in the greenery surrounding us in the lower altitude climate, and back into the green scenery of the lower altitude communities. Our last day of trekking is a beautiful one. As we slowly ascend back to Lukla, pine fragrances of nearby forests loft by as we watch local Sherpa farmers tending their gardens in the lush Khumbu Valley. We will spend out last night in the Himalayas in the small village of Lukla.
Trekking time: 6-7 hours
Total altitude gain/loss: 2,800ft (853m) descent
Day 15: Flight back to Katmandu
Day 16: Free day in Katmandu
Day 17: Departure from Katmandu
Day 18: Arrive back to USA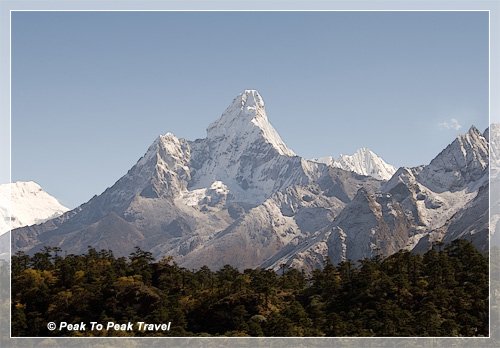 Mt Ama Dablam (photo by Dawa Sherpa)
The cost of Everest View Trek and Thyngbuche Mani Rimdu Festival is $2295; single supplement (for private rooms and tents) is $350. The Trek cost includes trekking permits, the Sagaramatha National Park fee, all meals (including breakfast, lunch, and a three course dinner prepared by our cooks using local organic produce), tea house lodging (if needed), staff salary, four nights hotel in Katmandu, one day sightseeing in Katmandu, round trip airfare from Katmandu to Lukla and airport transportation. If we choose to spend the night in a local Tea House, only the best available Tea Houses and lodges will be considered.
Travelers are responsible for round trip airfare from the USA to Nepal. Singapore Airlines has recently reduced their round trip airfare between Denver and Katmandu with a connection in either Los Angeles or San Francisco to just ~ $1600, making this long journey an affordable option. Travelers are also responsible for purchasing their own mandatory evacuation and travel insurance. Other personal costs include bottled drinks and alcoholic beverages, meals and transportation on free days in Katmandu, personal shopping, tips for staff, visa fees, and airport exit fees (if applicable).
Thank you and we look forward to making your Adventure in Nepal an unforgettable one!
Dawa Sherpa
Peak to Peak Travel
www.peaktopeaktravel.com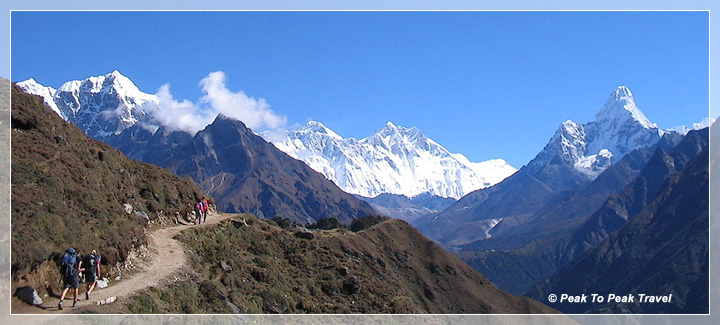 Mt Ama Dablam (photo by Dawa Sherpa)