Into the Clouds: Mt. Everest Region Trek
Duration: 25 Days
From the lush rhododendron blanketed hillsides to the jagged, snow covered Himalayan peaks, the Into the Clouds Trek highlights the grandeur, excitement and mystery of all that Nepal has to offer. This special trek will immerse you in the cultural, spiritual and natural beauty, both off and on the beaten path. We will traverse mountain routes as well as attend the Thyangboche Mani Rimdu Festival known worldwide. Trekking to altitudes exceeding 5,000m (17,000ft), this trek will not only provide you with bragging rights, but with a well deserved sense of personal and spiritual achievement.
The highlights of this trek are many, with the standouts being a hike through Gokyo Valley to Gokyo Ri, an incredible peak with an altitude of 5,483m (17,984ft) with an option to summit and view the panorama of Nepal's largest glacier- the Ngozumpa Glacier, as well as five over 8,000m (26,000ft) peaks, including Mt. Everest, Mt. Cho-Oyu, Mt. Lhotse and Mt. Makalu. There is also the option to hike to the Fifth Lake and over Cho La Pass (5400m, 17782ft). Other highlights of this journey include trekking through the mountain villages of humble Khumbu, and attending the colorful and cacophonous Mani Rimdu festival at the sacred Thyangboche Monastery.
For the three week duration, you will spend your nights in local lodges owned and operated by Sherpa people, and also out camping under the stars. This unique experience will immerse you in the local Nepalese mountain culture, inhale the clean crisp air, and interact with local Sherpa peoples, learning from their culture and customs.
Upcoming Trip Itinerary - Into the Clouds: Mt. Everest Region Trek 2010
Day 1: Depart U.S. Flight connects from L. A.
Day 2: In transit to Katmandu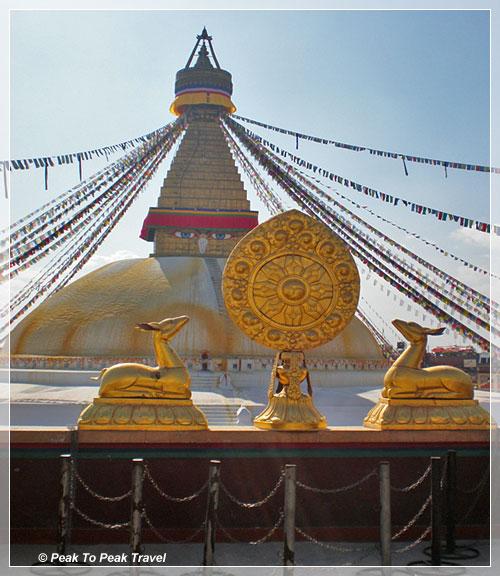 Bodhnath Stupa in Kathmandu, Nepal
Day 3: Arrive in Katmandu
Transport to the Yak and Yeti Hotel (www.yakandyeti.com), one of the finest hotels in Katmandu with excellent accommodations and a quiet atmosphere to unwind. A good rest is highly recommended to offset jet lag!
Day 4: Exploring Katmandu and beyond
"Proper" introductions to Katmandu are nonexistent—we will begin our journey by jumping directly into the exhilarating and delightful chaos that is Katmandu. We will visit some of Nepal's most famed religious sights, including Swayambhunath Stupa, the famed monkey temple, Bodhnath, the largest Buddhist stupa in Nepal, and Pashupatinath Temple, Nepal's largest and holiest Hindu shrine. There will also be plenty of free time to visit the overflowing markets and enticing restaurants of this exhilarating city. Shopping for extra clothing and other personal items can be done in Thamel, a backpackers' heaven whose many Internet cafes, hotels, shops and pestilent vendors can be rivaled only by Bangkok's Khao San Road.
Day 5: Katmandu to Lukla- Trek to Phakding
We begin our day with a quick 35 minute flight to Lukla, a mountain travel hub located Northeast of Katmandu. Longing to finally lace up those hiking boots? You're in luck, because today is also our first day of trekking! We will trek about 3-4 hours by the Dudh Kosi (Milky River) and camp/lodge overnight at Phakdingma 2,700m (8,700ft).
Trekking time: 3-4 hours
Altitude: 200m (650ft) descent
Dudh Kosi River Valley and Mt. Thamsrkhu
Day 6: Phakdingma to Namche Bazaar
Trekking begins in the Dudh Kosi Valley from Phakdingma to Namche Bazaar 3,400m (11,300ft). Crisscrossing over the Dudh Kosi roughly six times, we will take in the breathtaking views from multiple suspension bridges, as well as spot mountain goats, musk deer and the Nepali national bird, Daphne, in the Sagarmatha National Park. We will stop at Jorsale, a beautiful village about a half hour walk from the Sagaramatha National Park check post. After lunch we will continue our trek up Namche hill, a two hour climb which is beautiful yet difficult, with an elevation gain of roughly 800m (2,600ft)—a true accomplishment for any trekker (a view of a peeking Everest serves as an ample reward). Hikers from across the globe scatter this trail, making for interesting and dynamic conversation along the way. We end our day at the Namche Bazaar, a bustling village filled with your every need, including impossibly delicious baked goods, stunning scenery, and hundreds of hotels and tea houses.
Trekking Time: 5-6 hours
Altitude: 1,000m (3,280ft) ascent and 100m (328ft) descent
Day 7: Acclimatization day in Namche 3,444m (11,300ft)
To accustom our bodies to the sudden increase in altitude, a relaxing day in Namche is necessary for all trekkers. With more than enough activities to fill an entire week, Namche is the ideal place to relax and absorb the Himalayas. For those who would like a bit more activity, there is an optional hike to the headquarters of the Sagarmatha National Park for a view of Mt. Everest, Mt. Amadablam and Mt. Lhotse. We will also visit the Sherpa Culture Center and Museum. There is also an optional hike to the Everest View Hotel for some of the best mountain views during our trek, or for a hot cup of coffee or spot of tea. There is also an optional hike to the Thami Valley for those who would like to explore the area a bit more.
Namche Bazaar to Everest View Hotel
Trekking time: 2 hours
Altitude: 426m (1,400ft) ascent
Namche Bazaar to Thami Valley (Optional)
Trekking time: 3-4 hours
Altitude: 500m (1,600ft) ascent and 50m (170 ft) descent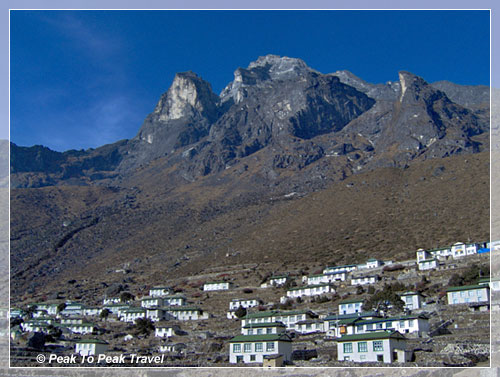 Khumjung Village and Mt. Khumbi Yul Lha
Day 8: Namche Bazaar to Khumjung 3,800m (12,402ft)
There are several routes to take out of Namche Bazaar onward. We will take a beautiful hike through Shyangboche, following packs of school children as they help guide us with smiles and laughter along the way. Along this route we will stop at the Sherpa village of Khunde and visit the Khunde Hospital built by Sir Edmond Hillary and the sacred monastery of Khumjung. Known for its incredible stone walls, Khumjung is not only an architectural spectacle, but the Khumbu's largest village. Mount Khumbila (more correctly Khumbu Yul Lha) the sacred peak, forms a dramatic backdrop to Khumjung.
Trekking time: 3-4 hours Altitude: 340m (1,100ft) ascent
Day 9: Khumjung to Dole 4,100m (13,400 ft.)
The morning greets us with a steep climb out of the valley through rhododendron forests, which give way to fragrant stands of juniper and large conifers. As we hike up to Mong La we will be surrounded with astounding views of Mt. Thamserku, Mt. Tawachee, Mt. Ama Dablam and Mt. Khantega. From Mong La, the trail descends to Phortse Thanga where we will stop lunch. After lunch our trek continues through rhododendrons and pine forests to Dole.
Trekking time: 5-7 hours
Altitude: 600m (2,000ft) ascent
Day 10: Dole to Machhermo 4,465m (14,650 ft)
The trail starts climbing steeply through scrub junipers to Mt. Lhaparma 4,329m (14,202ft.). We will pass the small settlement of Luza 4,339m (14,235ft) and continue to hike through the valley, to Machhermo. The views of Mt. Cho Oyu, Mt. Gyachung Kang, Mt. Tawachee and Mt. Cholatse are majestic. Home of the Himalayan Rescue Center (built by mountaineer Doug Scott and Community Action Nepal, a mountaineers' charity to help mountain people to help them raise their standard of living and strengthen indigenous, community-based culture) Machhermo is an interesting location to learn more about the daily lives of Nepalese peoples and Sherpa culture. We will camp here for the night.
Trekking time: 2-4 hours
Altitude: 320m (1,050ft) ascent
Day 11: Acclimatization day at Machhermo 4,465m (14,650 ft)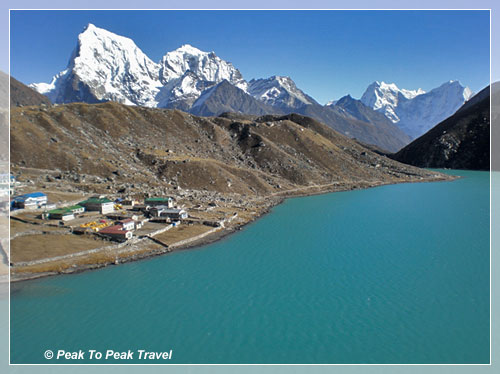 Khumjung Village and Mt. Khumbi Yul Lha
Day 12: Machhermo to Gokyo 4,750m (15,584ft)
Beyond Machhermo the trail climbs a steep ridge for excellent views both down the valley to Khantega and upwards to Mt. Cho Oyu. Beyond the ridge the valley widens as the trail reaches the small village of Pangka 4,400m (14,400ft). After passing Pangka the trail drops briefly, then climbs to a large cave known as Nilibuk. After Nilibuk we climb steeply along a narrow, newly crafted staircase trail. Atop the staircase the trail crosses a simple wooden bridge to a small lake, Longponga 4,650m (15,255ft). As the trail levels out, it flows through the valley past a second lake, Taujun 4,700m (15,448ft) and finally up a boulder strewn path to Gokyo 4,750m (15,584ft). Gokyo is a collection of stone houses and walled pastures on the shores of a large lake known as the Dudh Pokhari. We will camp/lodge here for two nights.
Trekking time: 5-6 hours
Altitude: 350m (1,150ft) ascent
Dawa and Pasang
Day 13: Ascent of Gokyo RI 5,483m (17,985ft)
Gokyo Ri looms above the village on the northern edge of the lake and we leave camp just after first light, following a steep path up the hillside. As we climb, the summits of Everest, Lhotse and Makalu slowly come into sight and the view from the summit is a spectacular panorama of mountains, glaciers and lakes in the Khumbu region of Nepal. The view is one of the finest to be had in the Everest region – the view of Mt. Everest is even better than that from Kala Pattar.
Ascent and descent time: 5-7 hours
Altitude: 732m (2,400ft) ascent and (2,400ft) descent
View of Mt. Everest from Fifth Lake
Day 14: Hike to Fifth Lake
A beautiful hike to Fifth Lake to "explore some of tremendous wild mountain views"—a panoramic view of Mt. Everest and the Himalayan giant Mt. Cho-Oyu. We will also explore the Ngozumpa Glacier Moraine. This day hike requires about 6-7 hours.
Day 15: Trek to Phortse
We trek to Phortse and follow the gentle ups and downs of the trail to Phortse, a beautiful, small Sherpa village amidst terraces of farmland. Phortse's main crop is potatoes—many of which we will surely devour!
Trekking time: 6-8 hours
Altitude: 950m (3,116ft) descent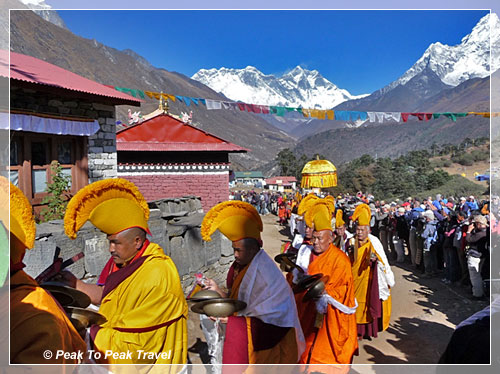 Thyngboche Mani Rimdu Festival
View of Mt. Everest, Mt. Lotse and Mt. Amadablam
Day 16: Trek to Tengboche
This trek is a very pleasant walk through the Sherpa village of Phortse and the Sagarmatha National Park. The trail leads down to the Dudh Kosi River, and then up to Tengboche through beautiful pine and rhododendron forests. This hike is somewhat challenging but quite short. The views from our campsite are magnificent. Sunrise and sunset are especially beautiful as the lights cascaded over Mt. Everest, Mt. Lhotse and many other peaks. We will camp close to the sacred monastery of Tengboche.
Trekking time: 5-7 hours
Altitude: 100m (3,30ft) ascent
Day 17-18: Tengboche Mani Rimdu Festival
The Mani Rimdu Festival is one of the top ten festivals in Nepal. The main purpose of Mani Rimdu is to send prayers of worship to Pawa Chenrezig, the God of compassion, whose blessing brings peace and good fortune to everyone. High lamas (shamans) perform evocative Buddhist movements in a vibrant, ritualistic Mask Dance followed by the Sherpa Shebru Dance in the evening. We will spend the night in a beautiful campsite.
Day 19: Thyangbuche to Namche Bazaar
Today we trek back to Namche Bazaar. The trek back from Thyangbuche to Namche is an easy six mile walk, passing through delicate forests and passing trekkers just beginning their journeys.
Trekking Time: 3-5 hours
Altitude: 750m (2,500ft) descent and 350m (1,200ft) ascent
Day 20: Namche Bazaar to Phakdingma
After breakfast, we will trek back to Phakdingma.
Trekking Time: 4-5 hours
Altitude: 1,000m (3,280ft) descent and 100m (328ft) ascent
Day 21: Phakdingma to Lukla
We have a short trek back to Lukla where we will spend the night.
Day 22: Lukla to Katmandu
Morning flight back to Katmandu.
Day 23: Free day in Katmandu
Day 24: Free day in Katmandu
Day 25: Depart Katmandu/onward
(please let us know if you would like to extend your trip)
Dawa Sherpa (Group Leader) at Gokyo RI
Trek Cost: $2950
Book your trip now! We accept PayPal, credit cards and checks.
The cost of the Into the Clouds Trek 2010 is $2950, and Single Supplement is $300. The Trek cost includes trekking permits, the Sagarmatha National Park fee, all meals (breakfast, lunch, and three course dinner prepared using local organic produce), tea house lodging (if needed), staff salary, four nights hotel (Hotel Yak and Yeti) in Katmandu, one day sightseeing in Katmandu, round trip airfare from Katmandu to Lukla and airport transportation. If we need to use the Local Lodges we will choose the best available tea houses/lodges.
Travelers are responsible for round trip airfare from the USA to Nepal (Singapore Airlines has recently reduced their round trip airfare between Denver and Katmandu with a connection in either Los Angeles or San Francisco to just $1600 (Subject to Change), mandatory evacuation and travel insurance, bottled drinks including water and alcoholic beverages, meals and transportation on free days in Katmandu, personal shopping, tips for staff, visa fees, and airport exit fees.