Annapurna Sanctuary Trek
Duration: 16 days
Annapurna sanctuary
The "sanctuary" refers to natural serenity, beauty and the home of the Hindu Goddesses Annapurna and Gangapurna.
The trail you will climb leads to the Machhapuchhre and Annapurna Base Camps (4200M), and passes through colorful Gurung villages, terraced fields, dense pine, bamboo and rhododendron forests. You will experience breathtaking views of Machhapuchhre (Fish Tail), Annapurna, Hinochuli and hundreds of waterfalls.
A spectacular panoramic view extending from Manaslu in the East to Dhaulagiri in the West is visible from Poon Hill. The Annapurna Sanctuary offers some of the best trekking in Nepal.
Upcoming Trip Itinerary - Annapurna Sanctuary Trek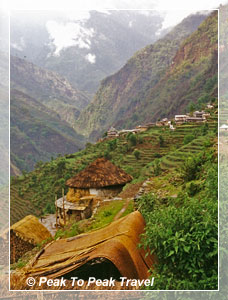 Trail through village
(The best months for trek are March-April and October-November)
Day 1: Arrive in Kathmandu
Day 2: Fly to Pokhara, trek to Dhampus (5580 ft.)
Day 3: Trek to Landrung (5315 ft.)
Day 4: Trek to Chhomrong (7250 ft.)
Day 5: Trek to Bamboo (7580 ft.)
Day 6: Trek to Deurali (10400 ft.)
Day 7: Machhapuchare Base Camp (12135 ft.)
Day 8: Annapurna Base Camp (13545 ft.)
Day 9: Trek to Dobhan (8330 ft.)
Bridge on way to Annapurna Base Camp
Day 10: Trek to Chhomrong (7250 ft.)
Day 11: Trek to Tadapani (8690 ft.)
Day 12: Trek to Ghorepani (9510 ft.)
Day 13: Trek to Hile
Day 14: Trek to Naya pul and drive to Pokhara
Day 15: Fly to Kathmandu
Day 16: In Kathmandu/onwards
Trek Cost: $1550
Book your trip now! We accept PayPal, credit cards and checks.
The total trek cost depends on the number of people in your group
Group size
Total cost per person
4-6
$1550 per person
6-10
$1350 per person
10-16
$1195 per person
Single supplement cost is an additional $300 per person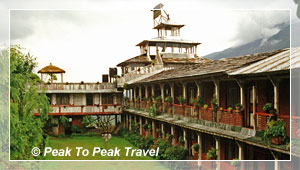 Landruck Teahouse
The total cost includes transportation to Pokhara by private car/bus, the Annapurna National Park fee, The Annapurna sanctuary Trek permit, air ticket from Pokhara to Kathmandu, group leader, guide, cooking team, porters and the Sherpa's salary, and all meals (breakfast, lunch and three course dinner) prepared by our cooking team using best available natural and organic produce from the Annapurna region, 4 nights hotel in Kathmandu, one night hotel in Pokhara, and Pokhara Kathmandu air ticket.
Travelers are responsible for round trip airfare from the USA to Nepal (Singapore Airlines has recently reduced their round trip airfare between Denver and Kathmandu with a connection in either Los Angeles or San Francisco to just $1600), mandatory evacuation and travel insurance, bottled drinks and alcoholic beverages, meals and transportation on free days in Kathmandu, personal shopping, tips for staff, visa fees, and airport exit fees.
Thank you,
Dawa Sherpa
Peak to Peak Travel
www.peaktopeaktravel.com