Solukhumbu Trek
Duration: 25 days
Total Trekking Time: 23 days
This four week trek in Nepal is the grand tour of the world renowned Solukhumbu (Mt. Everest) region of Nepal. During this trek, you will pass through some of the most beautiful areas of the Khumbu, including the Thame Valley, Gokyo Valley and Khumbu Valley - home of Mt. Everest. The route of the Solukhumbu Trek is pristine and somewhat isolated, giving you the unique opportunity to enjoy the serenity and natural wonder of Nepal in a way few trekkers can. From lively Sherpa villages to silent sacred monasteries, the Solukhumbu Trek allows you to experience the true diversity of the Solukhumbu Region.
Crossing two mountain passes, climbing two large peaks, and reaching Mt. Everest Base Camp, the Solukhumbu trek is physically demanding yet undoubtedly rewarding. The passes, Renjo Pass (17,515 ft) and Cho La Pass (17,782 ft) give trekkers the rare opportunity to visit both the Gokyo and Everest areas of the Khumbu region in a single trek. The peaks, Gokyo Ri (17,520 ft) and Kala Pattar (18,448 ft) offer some of the most stunning views of the Himalayas available on all of planet earth. Views of peaks such as Cho-Oyu, Lhotse and Mt. Everest are unsurpassed in beauty from the summits of Gokyo-Ri and Kala Pattar.
With the combined guiding knowledge of Dawa Sherpa, Pasang Sherpa and a well trained staff, your visit to the Nepal is assured to be well organized, safe, and hassle-free! High altitude pack animals, yaks, will be used to transport equipment, easing your burden of having to carry a cumbersome backpack. We will be staying in the best tea houses and lodges in the region, and enjoying warm hearty meals served by our hosts three times daily.
The Solukhumbu Trek begins from Phaplu, a short flight away from Katmandu. From the densely populated middle hills to the sparse high altitude wilderness, this trek is one heck of a lot of fun! The Solukhumbu Trek is the ultimate Himalayan trekking experience with an added lower-altitude trekking bonus – at these lower altitudes, we will see a more diverse collection of flora and fauna, as well as a large number of farms dotted along the hillsides. The portion of the trek from Phaplu to Chuplung (where the route from Lukla connects) is a less traveled route, and we will often have the trail all to ourselves! This option is also beneficial to our stamina- which we will need for the rest of the trek!
Join us for this journey through the Sherpa villages, the high mountain valleys, snow covered passes and magical views of the world's highest mountains in the high Himalayan region of North Eastern Nepal! Space is limited- sign-up while you still can!
Upcoming Trip Itinerary - Solukhumbu Trek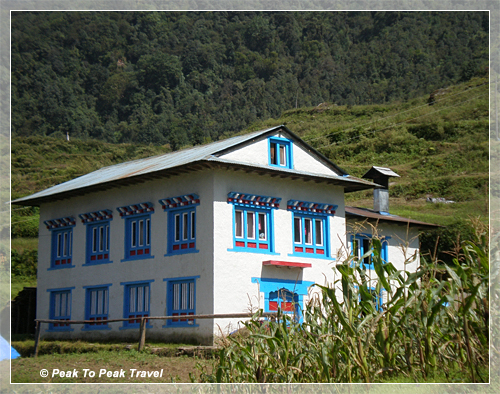 Dawa's home in Mera (6,500 ft)
Day 1-3: En route to Nepal
Day 4: Rest day and
Preparation for Trek
Day 5: Flight to Phaplu (7872ft) and Hike to Mera (7500ft)
We begin our day with a quick 35 minute flight to Phaplu, a mountain travel hub located about 40 miles south of Lukla. Longing to finally lace up those hiking boots? You're in luck, because today is also our first day of trekking! We will trek about 4-5 hours through beautiful villages, hills, and forest. Today we will visit Dawa's home- the magical village of Mera! While in Mera, we will visit the Village monastery and a few homes of Dawa's friends and family.
Trekking time: 4-5 hours
Total altitude gain/loss: 610m (2000ft)
Day 6: Trek to Taksindu (9740ft)
Taksindu 2970m (9740 ft)
We make our way through vibrant rhododendrons, whispering pines and ancient bamboo forests laden with waterfalls and streams. We will take a break for lunch at the half way point. We will spend the night in Taksindu.
Trekking time: 5-6 hours
Total altitude gain/loss: 682m (2240ft) ascent
Day 7: Trek to Khari Khola (6725ft): This part of route was taken by Sir Edmund Hillary and Sherpa Tenzing in 1953 to Everest. We will hike down to the Dudh Kosi river site and cross the bridge and trek through this beautiful Rai village of Jubing. Finally we will reach the beautiful town of Khari Khola.
Trekking time: 5-6 hours
Total altitude gain/loss: 920m (3000ft)
Day 8: Trek to Surkhe (7670ft): A hike through a beautiful forest with small waterfalls and streams. Many wild animals such as monkeys and Himalaya deer are abundant in this area, so make sure to keep your eyes peeled! After a pleasant hike through the forest we will arrive at beautiful town of Surkhe, abundant with small lodges and tea houses.
Trekking through Sherpa village: Ghat
Trekking time: 6-7 hours
Total altitude gain/loss: 422m (1365ft)
Day 9: Trek to Monjo (9020ft): Today is a smooth hike on a rolling, hilly trail through quaint Sherpa villages. We join up with the main Everest Trekking route on our way to Phakdingma and the increase in the amount of people will be noticeable, but a bit exciting- the energy begins to build from this point as we make our way deeper and deeper into the Khumbu. After an easy 4-5 hour hike by the Dudh Kosi (Milky River) we will reach the town of Monjo.
Trekking time: 6-7 hours
Altitude gain/loss: 412m (1350ft) ascent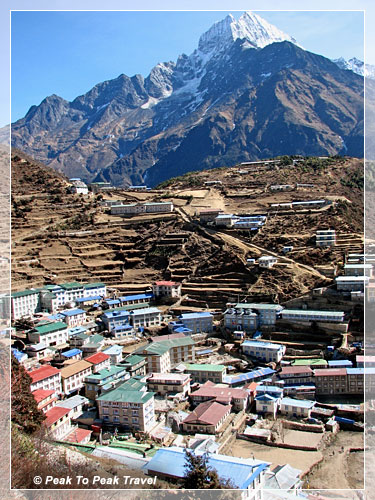 Namche Bazaar
Day 10: Trek to Namche Bazaar (11500ft): Our day begins in the Dudh Kosi Valley. We will take in the breathtaking views from multiple suspension bridges, as well as spot mountain goats, musk deer and the Nepali national bird, Daphne, in the Sagarmatha National Park. We will stop at Jorsale, a beautiful village about a half hour walk from the Sagaramatha National Park check post. We will continue our trek up Namche hill, a two hour climb which is beautiful yet difficult, with an elevation gain of roughly 756m (2480ft) - a true accomplishment for any trekker (a view of a peeking Everest serves as an ample reward). Hikers from across the globe scatter this trail, making for interesting and dynamic conversation along the way. We end our day at the Namche Bazaar, a bustling village filled with your every need - including impossibly delicious baked goods, stunning scenery and hundreds of hotels and tea houses.
Trekking time: 5-6 hours
Total altitude gain/loss: 1000m (3280ft) ascent, 100m (328ft) descent
Day 11: Acclimatization day in Namche (11500ft): To accustom our bodies to the sudden increase in altitude, a relaxing day in Namche is necessary for all trekkers. With more than enough activities to fill an entire week, Namche is the ideal place to relax and absorb the Himalaya. We will visit the Sherpa Culture Center and Museum, and in the evening we will all reconvene for a visit to the Tibetan Trading Market, a lively market filled with trinkets and goodies galore. There is also an optional hike to the Everest View Hotel for some of the best mountain views during our trek, or for a hot cup of coffee or spot of tea. Namche Bazaar to Everest View Hotel:
Trekking time: 2 hours
Total altitude gain/loss: 424m (1390ft) ascent and descent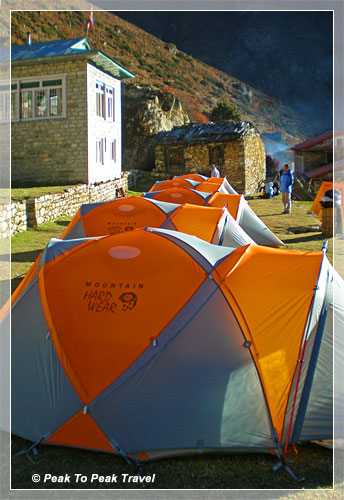 Camping in the Himalaya
Day 12: Trek to Thame (12533ft): Passing out of Namche, we will view some of the most complex and picturesque Mani stones in all of the Khumbu Region. Lunch will be served at the halfway point in Thamo, an old Sherpa village and headquarters of the Khumbu electricity project. This valley is off route for most trekking groups and you are likely to find the paths relatively quiet. The Sherpa village of Thame is clearly seen from here and is about an hour and half trek from Thamo. Because of the proximity of Thame's location to the trading route between Nepal and Tibet, we will have the rare opportunity to experience Tibetan culture and possibly speak with Tibetan refugees living in Nepal.
Trekking time: 4-6 hours
Total altitude gain/loss: 500m (1640 ft) ascent, 50m (164)
Day 13: Trek to Lungden (15386ft): Our trek today weaves through remote Sherpa villages and high mountain meadows filled with yak pastures and Himalayan wildlife. This route is popular with traders bringing Chinese goods from Tibet to Nepal and makes for an interesting cultural exchange. We will continue to gain altitude as we trek through the beautiful, pristine and isolated Nangpa Valley. If needed, we will spend one more night here for acclimatization. Most trekkers go to Gokyo Valley from Tsorelmo. We will set up camp at Lungden.
Trekking time: 4-5 hours
Total altitude gain/loss: 580m (1905ft) ascent
Day 14: Acclimatization at Lundgen (15386ft):
We will continue to gain altitude as we trek through a somewhat isolated area. Very few trekkers are seen on this trail. If needed, we will spend one more night here for acclimatization. Most trekkers go to Gokyo Valley from Tsorelmo.

Trekking time: 4-5 hours
Total altitude gain/loss: 380m (1250 ft) ascent
View from Renjo pass
Day 15: Trek to Gokyo (15580ft) via Renjo pass (17515ft): It's an early start today as we make our way toward Renjo pass! This pass can be a bit icy or snowy, and we will use ropes and snow axes if needed. Views from the pass are breathtaking. We will save plenty of time to spend at the top to take advantage of the endless photo opportunities. This is one of our more challenging days, but arriving in picturesque Gokyo with its electric turquoise lake will soon let us forget about our demanding day.
Trekking time: 8-9 hours
Total altitude gain/loss: 649m (2129ft) ascent, 590m (1935ft) descent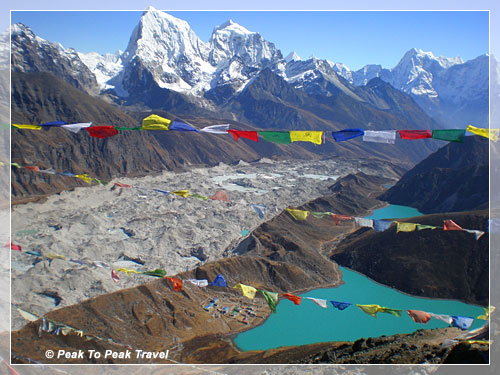 View from Gokyo RI (17,520 ft)
Day 16: Hike to Gokyo RI (17520ft) and Trek to Tagnag: Gokyo Ri, an adjacent peak to the village of Gokyo, makes for a wonderful early morning hike. We will rise early today and make our way to the summit of Gokyo Ri to take in the panoramic views of Mt. Everest, Cho Oyu, Cholatse and Makalu, to name a few. We will also have an optional hike to Fifth Lake, a less demanding route with matched views of the spectacular Himalayas. We will cross the ever-shifting and exciting Ngozumpa Glacier, a collection of ice and rock more like the surface of a distant planet than that of earth. But rest assured- crossing this glacier is safe and fun! We will camp overnight at Dragnag.
Trekking time: 6-7 hours
Total altitude gain/loss: 591m (1940ft) ascent to Gokyo Ri, and descent back to Gokyo.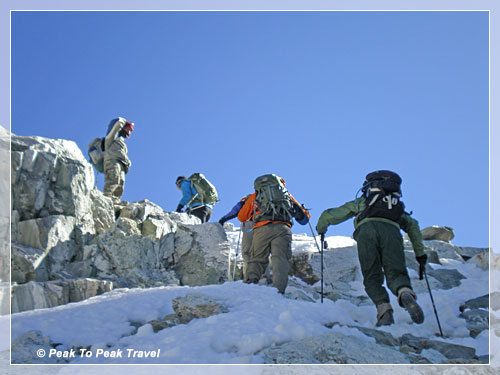 Crossing Cho La Pass (17,782 ft)
Day 17: Trek to Dozongla (15846ft) via Cho La pass (17782ft): Crossing Cho La Pass will undoubtedly be one of the highlights of the Solukhumbu Trek. Not only is the pass incredibly beautiful, but is an opportunity to test your physical limits- eating a big breakfast comes highly recommended! Cho La pass can be a bit icy and snowy and we will use ice axes and ropes if needed. If the weather does not allow us to cross the Cho La pass we will take the alternative route via the Sherpa village of Phortse.
Trekking time: 7-8 hours
Total altitude 2395ft assent to Cho La, and 1936ft descent to Dzongla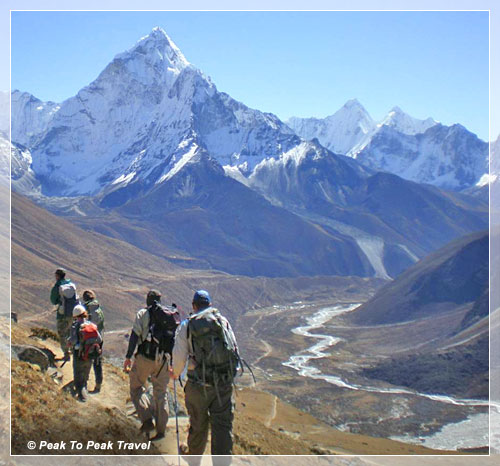 Trekking in the Khumbu Valley, View of Mt. Amadablam
Day 18: Trek to Gorek Shep (17005ft): From Dzongla to Gorekshep we will hike the more popular trail with fellow trekkers headed toward Everest Base Camp. Passing by numerous memorials and chortens, this hike is much livelier than the remote wilderness we have just come from. The views of Mt. Everest, Mt. Nupse and Mt. Pumori are spectacular from here. Dzongla is a small collection of tea houses adjacent to a nearby stream. Watching the sunset on Nupse is a memorable sight.
Trekking time: 5-7 hours
Total altitude gain/loss: 1100 ft (335m) ascent
Day 19: Hike to Kala Patter (18448ft) and Back to Gorak Shep (17002ft): This is a beautiful, high altitude hike. Passing through the town of Gorak Shep and its surroundings, you will be exposed to some of the true seekers of the top of the world. The summit of Kala Patter offers some of the best views of Everest in all of the Himalayas. We will hike back to Gorak Shep to camp overnight.
Trekking time: 4-6 hours
Total altitude gain/loss: 2273ft (692m) ascent, 1564ft (476m) descent
Day 20: Trek from Gorak Shep (17002ft) to Mt. Everest Base Camp (17580ft)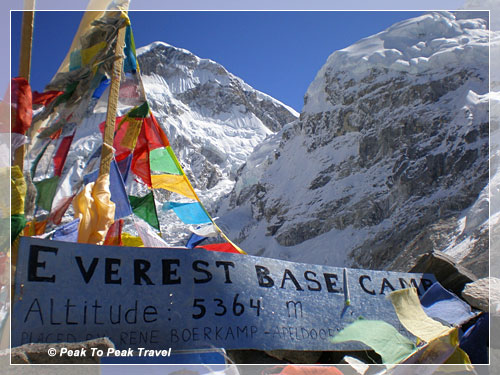 Mt. Everest Base Camp (17500ft)
Today we will explore the Khumbu Ice Fall on our way to Mt. Everest Base Camp. This trail is normally in great condition, especially when Mt. Everest expeditions have commenced their orchestrated attacks on the summit. The trip to Base camp can be a somber experience for some, an actualized life-long dream for others. Finally we will hike back to Pheruche.
Trekking time: 5-6 hours
Total altitude gain/loss: 656ft (200m) ascent and decent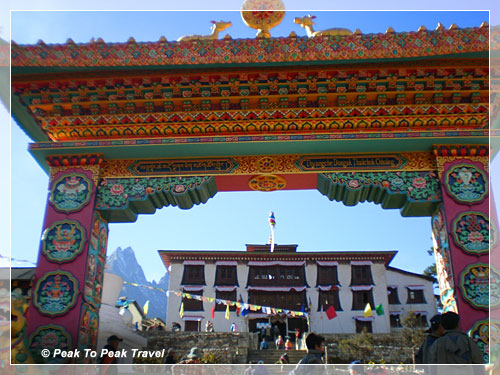 Thynbuche Monastery (13600ft)
Day 21: Morning Hike to Thyngboche (13600ft): We will hike through the grey, high alpine territory of Gorekshep and Mt. Everest Base Camp on our way through the beautiful Khumbu Valley. We will camp close to the sacred monastery of Thyngbuche and visit it in the morning. From here it is an easy trek, we'll visit the Thyngboche monastery.
Trekking time: 4 hours
Total altitude gain/loss: 2000ft descent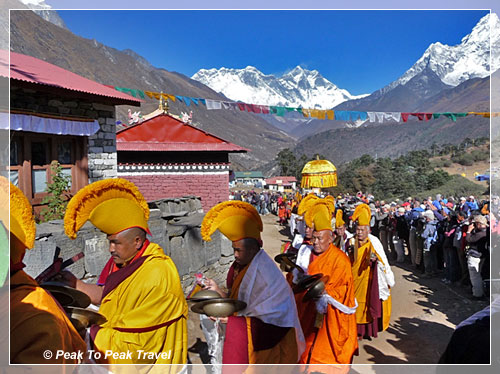 Thyngboche Monastery
View of Mt. Everest, Mt. Lotse and Mt. Amadablam
Day 22: Trek to Monjo
Today we will trek through Namche Bazaar, the trek back from Thyangbuche to Namche is an easy six mile walk, passing through delicate forests and passing trekkers just beginning their journeys. After lunch we will continue our hike to Monjo where we will stay overnight.
Trekking Time: 6-7 hours
Altitude: 915m (3000ft) descent and 350m (1200ft) ascent
Day 23: Trek to Lukla (9300ft): It's time to take it easy as we make our way down Namche hill. We will cross multiple suspension bridges, stop in a lovely organic garden restaurant for a leisurely lunch, and bask in the greenery surrounding us in the lower altitude climate, and back into the green scenery of the lower altitude communities. Our last day of trekking is a beautiful one. As we slowly ascend back to Lukla, pine fragrances of nearby forests loft by as we watch local Sherpa farmers tending their gardens in the lush Khumbu Valley. We will spend out last night in the Himalayas in the small village of Lukla
Trekking time: 6-7 hours
Total altitude gain/loss: 2800ft (853m) descent
Day 24: Flight back to Katmandu
Day 25: Departure from Katmandu
The cost of Solukhumbu Trek is $3995; single supplement (for private rooms and tents) is $450. The Trek cost includes trekking permits, the Sagaramatha National Park fee, all meals (including breakfast, lunch, and a three course dinner prepared by our cooks using local organic produce), tea house lodging (if needed), staff salary, four nights hotel in Katmandu, one day sightseeing in Katmandu, round trip airfare from Katmandu to Phaplu and airport transportation. If we choose to spend the night in a local Tea House, only the best available Tea Houses and lodges will be considered.
Travelers are responsible for round trip airfare from the USA to Nepal. Singapore Airlines has recently reduced their round trip airfare between Denver and Katmandu with a connection in either Los Angeles or San Francisco to just ~ $1600, making this long journey an affordable option. Travelers are also responsible for purchasing their own mandatory evacuation and travel insurance. Other personal costs include bottled drinks and alcoholic beverages, meals and transportation on free days in Katmandu, personal shopping, tips for staff, visa fees, and airport exit fees (if applicable).
Thank you and we look forward to making your Adventure in Nepal an unforgettable one!
Dawa Sherpa
Peak to Peak Travel
www.peaktopeaktravel.com