Mustang Trek
Duration: 13 Days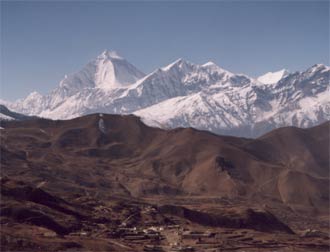 Mustang is the kingdom within the kingdom of Nepal. Since 1991, this region has been open especially for the foreigners. A visit to this kingdom of 2000 square kilometer barren valley floor is travel back in time. The earth beaten walls of the capital, Lo-Manthang, represent a scene out of an authentic medieval city. Time barely moves in this arid land situated in the trans Himalayan region to the north of Annapurna and Dhaulagiri massifs. Not a single tree grows in this desolated landscape, but thankfully for the visitors, Mustang has a lot of exotic things to offer.
Much of the caravan trail followed by the trekkers overlooks a splendid panorama of Annapurna, Dhaulagiri, Tilicho, Nilgiri and a whole range of other towering mountain masses. As you cross high mountain passes, prayer flags flutter and greet you, babies cry in cliff dwellings and in houses built atop crags, and lamas blow horns in lavish monasteries. The trail descends down to canyons, crosses plateaus, and runs alongside the longest Mani wall in Nepal.
A trip to this restricted area is like being caught in a time warp. This remote region is still practicing the ancient Bo religion. Those who wish to venture here will come back having experienced a way of life unchanged for centuries.
A trek to this area is best during the summer months when the temperature is tolerable and the people are busy in their daily chores.