Kanchanjunga Base Camp Trek
Duration: 28 Days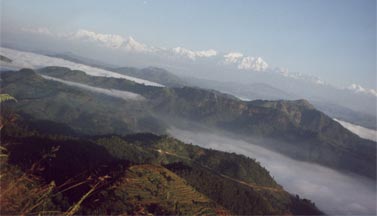 Kanchanjunga is perhaps the least known peak, but towering at 8598m, it is the third highest peak in the world. It lays astride the Nepal/Sikkim border in far eastern Nepal, and is only few miles from Tibet.
This area offers a uniquely different setting from the rest of Nepal. It was open to trekking in 1988, but does not see many trekkers. It is therefore ideal for those who want to see a different Nepal.
The shorter version starts and ends at Taplejung with connecting flights to Kathmandu. The trek will take you across terraced hills towards the peaks of Jannu, Khabru and Kumbakarna with Kanchanjunga and Rathong towering above. The longer trek starts at Basantapur, and reaches the Base Camp at Pang Gyabla after about 17/18 days, before turning back to the airstrip at Taplejung to fly back to Kathmandu. This is one of the best treks in eastern Nepal.