Everest Region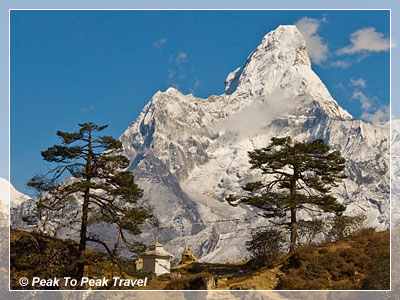 This region lies in the Eastern Zone of Nepal. Since the first expedition in 1952-53, this region has received countless climbers and trekkers from all over the world. Sir Edmund Hilary of New Zealand and Tenzing Norgay Sherpa of Nepal made the Everest region world famous when they stood as the first men to gain victory over the world's highest summit - 8848 meters high.
Visitors to this region begin at the foot of the Himalayas, travel from a temperate climate through villages, rhododendron and pine forests, over glacial rivers, and to above snow line. This trek offers the closest and most spectacular view of the Himalayas. The Sagaramatha National Park is contained in this area, and there are countless natural beauties to enjoy. Animals which thrive at high altitudes such as the musk deer and the extraordinarily beautiful Impeyan Pheasant (Nepal's national bird) may be encountered, and Nepal's national flower, "Laliguras," are seen. During autumn, a number of other unique Himalayan flowers bloom in profusion.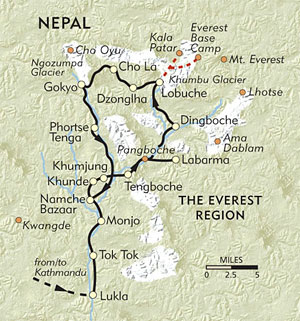 Colorful Himalayan meadows with a fantastic backdrop of towering peaks provide unbelievably beautiful and breathtaking views for visitors to this region.
The local inhabitants are mostly Sherpas. Their Buddhist tradition is reflected in their villages and monasteries which dot the mountainsides and valleys, and their friendly smiles are always engaging. A visit to this region promises an unforgettable journey and destination.