Special Fall Trek
Gokyo Valley Trek and Thyngboche Mani Rimdu Festival
Duration: 26 days
This is a special trip designed to discover the cultural, spiritual, and natural beauty of the Mt. Everest region. This trip is rated easy to moderate with a maximum altitude is at Gokyo (15584 ft.). This trip also gives you an option to hike up to Gokyo RI (17520 ft.) and Fifth Lake and trek over Cho La Pass (17782 ft.) to Mt. Everest Base camp (17500 ft.) and Kala Patter (18448 ft.). The highlights of this trek include trekking up to Gokyo Valley through the mountain villages of Khumbu and the Mani Rimdu Festival at the sacred Thyngboche Monastery.
Special Fall Trek Itinerary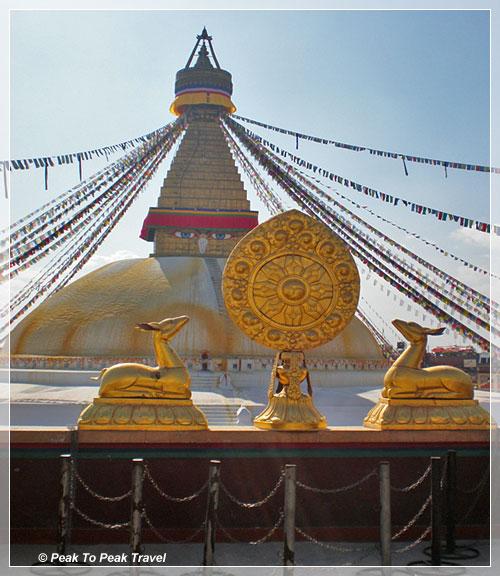 Bodhnath Stupa in Kathmandu, Nepal
Day 1: Depart U.S.
Flight connecting from L. A.
Day 2: In transit to Kathmandu
Day 3: Arrive in Kathmandu Transport to hotel (a good rest is recommended).
Day 4: A day in Kathmandu Today we will take a sightseeing tour to Swayambhunath Stupa (the famed Monkey Temple), Bodhnath (the largest Buddhist stupa in Nepal), and Pashupatinath Temple (Nepal's largest Hindu shrine). Shopping for extra clothing and other personal items can be done in Thamel, Kathmandu.
Day 5: Kathmandu to Lukla After a 35 minute flight we will trek to Phakdingma (8700 ft.). Today is our first day of trekking. We will trek about 4-5 hours by the Dudh Kosi (Milky River) and camp/lodge overnight at Phakdingma.
Day 6: Trek from Phakdingma to Namche Bazaar (11300 ft.) We will trek to Namche crossing the Dudh Koshi River about six times. Views from the suspension bridges are breathtaking. Mountain goats and the Nepali national bird danphe are seen in the Sagaramatha National Park. We will stop at Jorsale which is about a half hour walk from the Sagaramatha National Park check post. After lunch we will continue to hike to Namche by climbing the Namche Hill. The Namche Hill is about a 2 hour climb. It is a beautiful and hard hike and the elevation gain is about 2600 ft. The hike is very scenic and you will be hiking with the people from all over the world.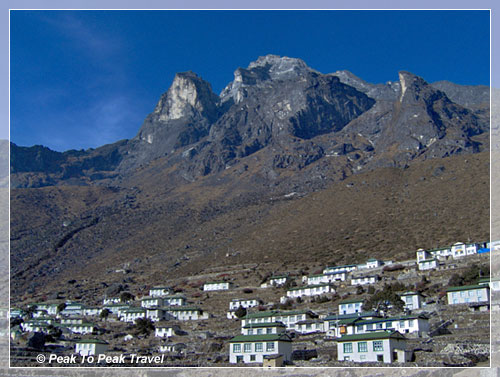 Khumjung Village and Mt. Khumbi Yul Lha
Day 7: Acclimatization day in Namche (11300 ft.) Today's hike is up to the headquarters of the Sagaramatha National Park for a view of Mt. Everest, Mt. Amadablam and Mt. Lotse. We will also visit the Sherpa Culture Center and Museum. In the evening we visit the Tibetan Trading Market. There is an optional hike to the Everest View Hotel for those who would like to explore more. Some people hike up to Thamo Valley and come back to Namche.
Day 8: Namche Bazaar to Khumjung (12402 ft.) We will take a 3-4 hour hike through Syngbuche and the Sherpa village of Khunde. We will visit the Khunde hospital built by Sir Edmond Hillary and visit the sacred monastery of Khumjung. Khumjung is a beautiful traditional Sherpa village with exceptional stone walls.
Day 9: Khumjung to Dole (13400 ft.) The trail first climbs steeply out of the valley through rhododendron forests which give way to fragrant stands of juniper and large conifers. This part of the trek is especially beautiful in spring when the rhododendrons are blooming. We will hike up to Mong La, from here the views of Thasherkhu, Tawachee, Amadablam, and Khantega are tremendous. From here we have a downhill trek to Phortse Thanga (river side). We will stop at Phortse Thanga for lunch and continue our hike up to Dole. From Phortse Thanga, we have a beautiful uphill hike through rhododendrons and pine forest to Dole.
Day 10: Dole to Machhermo (14650 ft.) The trail starts climbing steeply through scrub junipers to Lhabarma (14202 ft.). We will pass the small settlement of Luza (14235 ft.) and continue to hike along the side of the valley to Machhermo. The views of Mt. Cho-Oyu and Gyachung Khang, Tawache and Cholatse are majestic. We will camp here overnight and visit the Himalayan Rescue Center (health post) built by Community Action Nepal and mountaineer Doug Scott.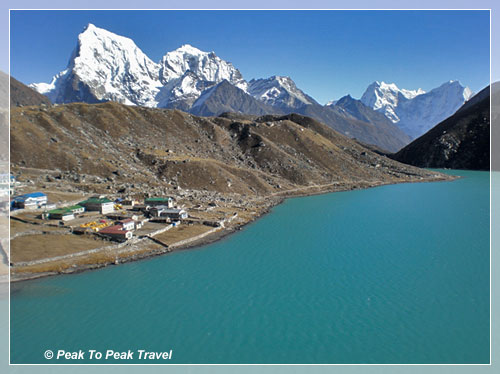 Gokyo Valley, 3rd Lake (15584 ft.), Mt. Cho lotse and Tawache,
Mt. Kangtaga and Mt. Thasherkhu on clockwise direction
Day 11: Machhermo to Gokyo (15584 ft.) Beyond Machhermo the trail climbs a ridge for an excellent view down the valley to Kantega and upwards to Cho Oyu. Beyond the ridge the valley widens as the trail reaches the small village of Pangka (14400 ft.). After passing Pangka the trail drops briefly, then climbs to a large cave known as Nilibuk. After Nilibuk we climb steeply along a narrow, newly crafted staircase trail. Atop the staircase the trail crosses a simple wooden bridge to the first small lake, Longponga (15255ft.). The trail now becomes almost level as it follows the valley past a second lake, known as Taujun (15448 ft.) and finally up a boulder strewn path to Gokyo (15584ft.). Gokyo is a collection of stone houses and walled pastures on the shores of a large lake known as Dudh Pokhari. We will camp here for one night.
Mt. Everest from Gokyo RI
Day 12: Option to Hike to Gokyo Ri (17520 ft) We will take an early morning hike to Gokyo RI for the sunrise view on Mt. Everest and Cho Oyu and the panoramic views of the Himalayas or just enjoy the view of the mountains, the Ngozumpa Glacier, and the beauty of Gokyo valley from your campsite.
Day 13: Trek to Macharmo
Today we take a short day hike back to Macharmo. You will have the option to hike over Cho La Pass (17782 ft.) to Everest Base Camp (17500 ft.) and Kala Patter (18448 ft.) with the Ultimate Everest Trek group if you wish. Those who choose to hike over Cho La Pass will rejoin the rest of the group at Thyngbuche for the Mani Rimdu Festival.
Day 14: Trek to Dole
An easy day hike back to Dole.
Day 15: Trek to Phortse We will hike down to Phortse Tanga (river side), cross the Phortse Thanga River and hike up to Phortse. Phortse is beautiful Sherpa village.
Day 16: Trek to Thyngbuche This is a very pleasant walk through the Sherpa village of Phortse and the Sagaramatha National Park. The trail leads you down to the Dudh Koshi River. After crossing the Dudh Koshi River we will hike up to Thyngbuche through a beautiful pine and rhododendron forest. The uphill hike is somewhat challenging but it is a short hike. The views from this point are magnificent. The best view from the campsite is sunrise and sunset on Mt. Everest. Mt. Everest, Mt. Amadablam, Lhotse, and many other peaks are seen from your campsite. You will meet the group who are going over Chola Pass here for the Mani Rimdu Festival. We will camp close to the sacred monastery of Thyngbuche and visit it in the morning. From here on it is an easy trek to have fun, explore the Mani Rimdu Festival at Thyngboche monastery, and enjoy your adventure.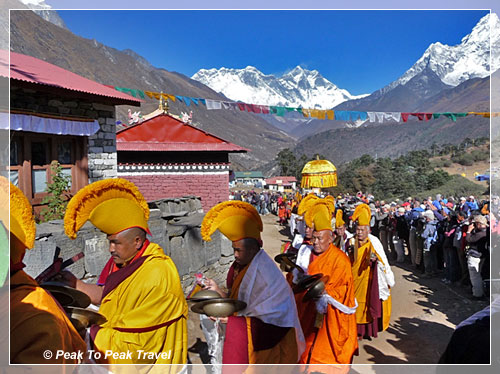 Thyngboche Mani Rimdu Festival.
View of Mt. Everest, Mt. Lotse and Mt. Amadablam
Day 17: At the Mani Rimdu Festival The Mani Rimdu Festival is one of the top ten festivals in Nepal. The main purpose of Mani Rimdu is the prayers which worship Phawa Chenrezing, the God of Compassion. It is believed that the God of Compassion's blessing brings peace and good fortune to everyone. High lamas (shamans) perform a Buddhist exorcism in a vibrant and ritualistic Mask Dance followed by the Sherpa Shebru Dance in the evening during this annual festival.
Day 18: At the Mani Rimdu Festival in Thyngboche.
Day 19: At the Mani Rimdu Festival in Thyngboche.
Day 20: Trek to Namche Today we trek back to Namche Bazaar. The trek back from Thyngbuche to Namche is an easy 6 mile walk.
Dawa Sherpa (Group Leader) at Gokyo RI
Day 21: Trek to Phakdingma After breakfast, we will trek back to Phakdingma. Trekking back to Phakdingma is much easier than climbing up the Namche hill.
Day 22: Trek to Lukla
Short trek back to Luckla, and camp/lodge in Lukla.
Day 23: Lukla to Kathmandu
Morning flight back to Kathmandu.
Day 24: Free day in Kathmandu
Day 25: Free day in Kathmandu
Day 26: Kathmandu/onward
Please let us know if you would like to extend your trip.
Land Cost: $2250
Book your trip now! We accept PayPal, credit cards and checks.
Single supplement costs an additional $300 per person. Travelers are responsible for round trip airfare from the USA to Nepal (Singapore Airlines has recently reduced their round trip airfare between Denver and Kathmandu with a connection in either Los Angeles or San Francisco to just $1600), mandatory evacuation and travel insurance, bottled drinks and alcoholic beverages, meals and transportation on free days in Kathmandu, personal shopping, tips for staff, Visa fee, and airport exit fees.